show less
show more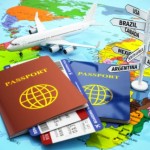 Public Group
active 5 months, 3 weeks ago
Please post, in 50 words, any valuable and unique information that relates to TRAVEL?
Please read this information before posting on Discoverybit.com.
Xiomara Anders posted an update in the group Travel 6 months, 3 weeks ago

The Recently Opened Deepspot Pool, At 45m Deep, Is Deeper Than The Current Guinness World Record Holder For Deepest Pool, The Y-40 Diving Pool (42m Deep) In Italy. The Deepspot Pool In Poland, Which Caters To Scuba Divers And Freedivers, Could Fill More Than 24 Olympic Sized Swimming Pools. The Pool Also Has A Transparent Viewing Tunnel For Non-Divers.


World's deepest diving pool opens in Poland

Share

Anika Reyansh posted an update in the group Travel 10 months, 2 weeks ago

Germany, In A Global Poll, Has Been Ranked As The Most Admired Country In The World For The Third Year In A Roll. The Rank Was Derived From A US-Based Gallup Poll Survey Of 1,000 Adults In 134 Countries In 2019. The US, China, And Russia Were Ranked The 2nd, 3rd, And 4th Positions Respectively.

Share

Zoe Logan posted an update in the group Travel 12 months ago

The Belgian Government Will Hand Out Free Railway Tickets To All Its Residents To Encourage Domestic Tourism, To Stimulate Their Economy After The Coronavirus LockDown. The Tickets Will Entitle Each Resident To Ten Free Journeys Of Any Length On The Country's Railways. This's Cool, But There Are Concerns Of Overcrowding Of The Trains.

Share

Nelson Cruz posted an update in the group Travel 1 year, 2 months ago

The Largest Waterfall In Ecuador Has Seemingly Disappeared After Part Of Its River Source Was Diverted By A Large Sinkhole. The Waterfall, Known To Be A Major Tourist Attraction, Will Be Closed And Has Since Been Removed As A Tourist Destination. The Ecuador Tourism Ministry Does Not Plan To Reconstruct The Waterfall.

Share

Gabriel Zamora posted an update in the group Travel 1 year, 5 months ago

Netherlands Has Dropped The Name Holland, And Also Changed Their National Symbol. This Move Is Expected To Bring In The Right Kind Of Visitors As Part Of Their Tourism Rebranding Effort, By Emphasizing On The Country's Commerce, Science, And Arts, Instead Of Being Known Negatively For Things Like Holland's Drug-Culture Capital Amsterdam.

Share

Ismael Shapiro posted an update in the group Travel 1 year, 7 months ago

Quatas Made History Again By Being The First Airliner To Fly Nonstop For 19.5 Hrs From London To Sydney, Covering A 17,800 km Distance With A Boeing 787 Dreamliner Aircraft. Quatas Previously Flew The Same Route Nonstop In 1989 Using A 747-400 Ferry Flight, Which Took 20 Hrs and 9 Mins, Making It The World's Longest Commercial Flight.

Share

Aarav Kumar posted an update in the group Travel 1 year, 7 months ago

So Cool That In This Indian Village Of Kongthong, Mothers, In Addition To Formal Names, Also Compose Tunes (Jingrwai Lawbei) As Names For Their Babies. And Villagers Can Use The Tune To Call Out To A Person. I Guess Villagers Can Tell Who Is Calling, From A Saved Tune, Without Looking At The Caller ID.


Village where babies get a song for a name - BBC News

Share

Abbey Carper posted an update in the group Travel 1 year, 8 months ago

More Progressive Transformation From Saudi Arabia, As It Is Now Okay For Only Unmarried Foreign Couples To Rent A Hotel Room Together. Previously, Foreign Folks Were Asked To Show Proof Of Their Relationship As Married Couples To Rent A Hotel Room. Even Women, Including Saudis, Will Now Be Allow To Stay Alone In Hotel Rooms.

Share

Charlotte Russe posted an update in the group Travel 1 year, 9 months ago

There Is A Global Liveability Index Of 140 Cities Worldwide, Which Ranks The Most Livable Cities Based On Parameters Like Stability, Culture And Environment, Education And Infrastructure, And Health Care. And This Year, 2019, Vienna Is Top-Ranked, With Melbourne Sydney, Osaka, and Calgary, In This Order, Subsequently Making The Top 5.

Share

Artur Korneyev posted an update in the group Travel 1 year, 11 months ago

It's Beautiful, But Also Dangerous To Come In Contact With. I Am Referring To The Popular Bright Blue Lake Nicknamed The "Siberian Maldives" In Russia's Siberia, Where Thousands Of Novosibirsk Residents Go Take Selfies For Instagram. The Blue Color Is Due To Toxic Waste Elements From A Local Power Station.


'Siberian Maldives' Selfies: Toxic Lake Becomes New Instagram Sensation

Share

Charlotte Russe posted an update in the group Travel 1 year, 11 months ago

Switzerland, In 8th Position In 2018, Has Been Ranked As The Best Place To Live And Work In 2019. This's The First Time In 5 Consecutive Years That Singapore Did Not Win The Title, Coming In At Second Position. The Ranking Was Conducted By HSBC Expat's Annual Survey Of 18,000 Expats Across 163 Markets.

Share

Adelaide Kane posted an update in the group Travel 1 year, 11 months ago

Bahrain, In August 2019, Will Lunch The World's Largest Under Water Theme Park, Covering An Area Of ~100,000 Square Meters. It Will Comprise The Largest Intentionally Submerged Plane, A Boeing 747. The Plane Was Sunk To A Depth Of 20 Meters To Create An Artificial Reef To Promote Marine Life And Revive Local Ecosystems.


Dive Bahrain Underwater Theme Park: Boeing 747 airplane submerged

Share

Amara Enyia posted an update in the group Travel 2 years, 1 month ago

Are You Looking For The Best State To Live In The USA Based On These 8 Categories: Crime And Corrections, Economy, Education, Environment, Fiscal Stability, Healthcare, Infrastructure, And Opportunity? Then, According To The U.S. News & World Report Surveys, Washington State Ranks As The 2019 Best State To Live In.

Share

Derek Selig posted an update in the group Travel 2 years, 7 months ago

France Is Currently The Most Visited Country In The World, But It Is Projected That By 2030, China Will Be The Most Visited Country In The World. And This Is In Thanks To China's Economic Growth, The Ease Of Traveling To The Country, And Improved Tourism And Tourism Friendly Initiatives.

Share

Cindy Alverez posted an update in the group Travel 3 years, 11 months ago

When Various Reputable Blogs/News Outlets Keep Listing Similar Places To Visit, Especially During Different Seasons, Then You Really Get Curious About These Places. I Would Recommend That You Compare Previous Posts In The eFor-Real.com Group, Travel, On Great Places To Visit To Make The Best Informed Decision.

Share

Anika Reyansh posted an update in the group Travel 4 years, 1 month ago

This Looks Like Another Cool App For Those Always Traveling. The "Doctor In Your Pocket" App Lets You Contact And Schedule An Appointment With A Doctor In Your Vicinity, From Any Part Of The World, In More Than 40 Languages. But I would Read The Unbiased Review Before Signing Up For A Fee.

Share

Hey Newly Weds, You May Want To Take A Look At The Link If You Are In Search Of A Get Away Hotel For Your Honeymoon. These Hotels Were Picked Based On What They Are Known To Offer: Adventure (E.G., Safari), Breath Taking Scenery, And Of Course, The Royal Treatment (E.G., Pampering And Massages).

Share

Anika Reyansh posted an update in the group Travel 4 years, 2 months ago

Like Me, You May be Using Your Travel Budget, Rather Than How Fun A Place Is, To Decide On Where To Travel? Here's A Great Link That Could Help You With That. The Link Discusses Places, Within The USA and Abroad, That You Can Visit, At Very Cheap Cost, Each Month.

Share

Castles Have Always Been Intriguing To Me Because Of The Rich History Associated With Them. My Trip Next Year Could Also Include Visiting Some Of The Castles In Europe. Here Is A List Of Top Ten Castles To Aid You In Your Travel Destination In Europe.

Share

Need Help Deciding Where To Travel Globally? Well, This Might Help.

Bali named the best global travel destination for 2017 | travel | Hindustan Times

London and Paris have bagged the second and…

Birthdays

You must be logged in to see the birthday of the people you follow.

Invite some friends!

Thanks for inviting your friends. Please try other network if you wish.

Side Menu

Do NOT follow this link or you will be banned from the site! This is a social network for those interested in unique and valuable information!