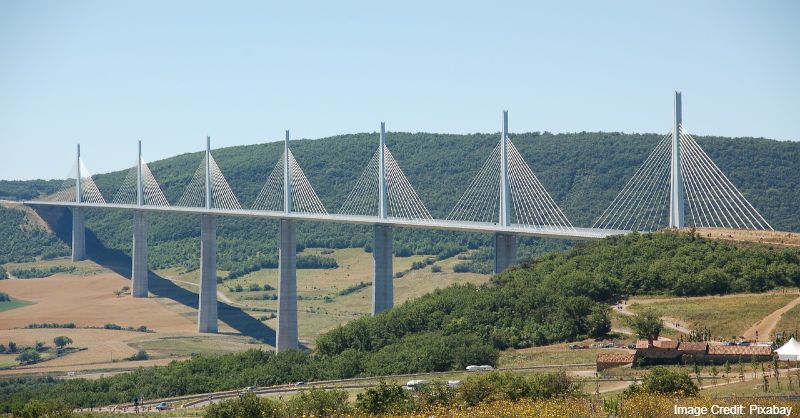 La Méridienne , Creissels, Occitanie 12100, France
The tallest bridge in the world, Millau Viaduct, is located in the south of France. And it stretches across the river Tarn gorge valley.  The bridge, which cost 394 million euros, was put in place to relieve the heavy traffic from Paris to Spain.
The bridge stands at 1104 feet tall, and consists of seven pylons, which broke records for height at the time of their construction.  It is a cable-stayed bridge, meaning that large cables attached to the pylons support the roadway.
Millau Viaduct is one of the greatest engineering feats, and has become one of the world's major tourist attractions in its own right.  The design won gold at the 'Design & Art Direction Awards,' beating out over 14,000 other entries.  The drive across is beautiful and scenic, but it serves an important practical purpose as well.
More than 15,000 vehicles cross the bridge daily.  It replaced a winding road and saves drivers from 45 minutes to three hours of travel time.
The tolls on the bridge go to the construction company that financed it, and the tolls range from 5.50-38.60 euros.  If you plan to see the bridge up close you will need to drive, as it is closed to pedestrian traffic; however, there are a few special occasions when the bridge is shut down for a road race.  In total there are 8070 feet of roadway to cross.
The roadway has been featured in a number of television series and films, including Mr. Bean's Holiday and Top Gear.