show less
show more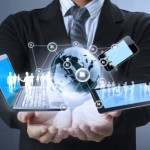 Public Group
active 5 months ago
Please post, in 50 words, any valuable and unique information that relates to APP?
Please read this information before posting on Discoverybit.com.
Michelle Akers posted an update in the group App 5 months ago

A Global Survey Of The World's Most Downloaded App Indicates That The TikTok App Is The Most Download App In 2020, Surpassing The Facebook App. The Data Compiled By Business Journal Nikkei Shows That TikTok Moved from 4th Position To 1st Position In 2020. Facebook Remains 2nd, While Facebook Messaging App Moved From 1st To 4th Position.

Share

Latasha Pettway posted an update in the group App 6 months ago

The Tastry's App, BottleBird, Uses AI, Wine Profile Data, And Consumer's "Palate Survey" For Personal Taste And Smell Preferences To Personalize Wine Recommendations For Consumers, And Improve Sales For Wine Traders. These Parameters Make BottleBird Different From Apps Like Vivino, Which Rely On Historical Purchase And Rating Data.

Share

Cindy Alverez posted an update in the group App 6 months ago

Researchers, Based On The Relationship Between Inflammatory Markers And Various Age-Related Conditions, Have Developed A New Tool Called iAge, Which Analyzes Blood-Borne Markers Of Chronic Inflammation. To Determine One's Immunological Age, Which Could Hint At When/Whether A Person Will Become Frail Or Develop Heart Disease Later In Life.

…

Share

Abbey Carper posted an update in the group App 6 months, 2 weeks ago

Lock&Stock Is Another App That Incentivises Students To Stay Off Their Phones During Class Or While Studying. The App Does This Via The Credits/Keys That Students Earn For Every Minute Their Phones Stay Locked. The keys Can Then Be Used To, E.G., Apply For Scholarships Via Partnered Universities Or Get Discounts Via Partnered Brands.

Share

Olivia Isabella posted an update in the group App 8 months ago

Google Has Unveiled An AI App Known As "Dermatology Assist." The App, Modeled After A Previous Tool For Identifying Symptoms Of Certain Cancers And Tuberculosis, Uses Questions And Images Uploaded To Identify Hair, Skin, And Nail Conditions, Enabling Doctors To Provide More Tailored Treatment. The App Can Recognise 288 Skin Conditions.

Share

Logan Mason posted an update in the group App 1 year ago

Scientists May Have Built The World's First Mobile Genome Sequence Analyzer App Called iGenomics. The App Combines With A Handheld DNA Sequencer To Enable Users Create A Mobile Lab To Determine The Kind Of Genetic Information Carried In A Particular DNA Segment. "iGenomics Makes Genome Studies More Portable, Accessible, And Affordable."

Share

Anika Reyansh posted an update in the group App 1 year, 1 month ago

With The Rising Cases Of Coronavirus, Some States Have Created A Coronavirus Notification App That Can Send Alerts, Via Bluetooth, When A Person Is Close To Someone Infected. Now, Unless One Is Masked-Up, The App Only Informs You After Exposure. But, At Least, You Now Know To Take Precautions To Avoid Infecting Others. Ingenious!

Share

Ken Parth posted an update in the group App 1 year, 2 months ago

Have A Song Stuck In Your Head That You Can't Seem To Remember The Name Or Lyrics? Well, The Google Search App Can Now Help With That. All You Need Do Is "Tap The Mic Icon Or Use The Google Assistant, And Say "What's This Song?" Or Click The "Search A Song" Button. And Then Start Humming For 10-15 Seconds" To Find The Song. Pretty Cool!

Share

Xiomara Anders posted an update in the group App 1 year, 5 months ago

A Rental App Called Swimply, Touted As The Airbnb For Pools, Will Let You Rent A Pool From Neighbors, Especially When Going To Public Pools Are Ill-Advised During This Era Of COVID-19. The Cost Of Renting A Pool Varies, With An Average Cost Of $45/Hr, Depending On Pool Area Size, Amenities, Timing, And Demand, Etc.

Share

Oliver Robert posted an update in the group App 1 year, 9 months ago

Pretty Cool Australian First In Eyewear Technology App, The Lens Scanner, Which Can Enable Anyone Retrieve Their Own Prescription Lens Online By Performing Their Own Eye Test With The Same Accuracy As A Lensmeter, Commonly Found At The Optician. The Prescription Can Then Be Applied To Any Glass That One Chooses To Purchase Online.


Vision Eye Test - How to find your Glasses Prescription at home with Lens Scanner App

Share

Xiomara Anders posted an update in the group App 2 years, 1 month ago

The New App, "Mon Ami," Created By Two Stanford Graduates, Is Almost Like The RentAFriend App, Except It Pairs Students With Like-Minded Seniors That Pay $25/Hr For Companionship Visit. The Creators Said The App Was Built To Help Combat Loneliness Given The Alarming Statistics That 1 In 3 Americans Over 45 Struggle With Loneliness.

Share

Blunt Emily posted an update in the group App 2 years, 7 months ago

The New App, SnakeSnap Is More Like The iNaturalist App. However, It Does More Than Identify The Names Of This Specific Species Of Animal, The Snake, Thereby, Increasing One's Chance Of Survival In The Event Of A Bite. The App Also Provides Connections To Immediate Resources, Fire Departments, Or Other Emergency Information.

Share

Haruki Muraka posted an update in the group App 2 years, 7 months ago

The Anti-Groping Smartphone App, Called Digi Police, Which Was Developed By Japanese Police, Is Highly Popular Among Women In Japan. The App Is Said To Deter Any Would Be Offender With Many functions Including A Help Text Display And An Alarm. It Also Includes Maps Where Groping is Most Common. Cool!!

Share

Patel Agarwal posted an update in the group App 2 years, 8 months ago

A Do It Yourself First Smart Phone App, Which Can Help Parents Detect Ear Infection Via Fluid Build Up In A Kid's Ear, Has Been Developed By the University Of Washington Researchers. The App Works By Using The Frequency Of Chirps Reflected Off The Eardrum To Determine Possible Ear Infection. Pretty Cool!!


First smartphone app that can hear ear infections in children

Share

Ken Yun posted an update in the group App 2 years, 11 months ago

A New Dating App Has Been Created For Cows And Bulls In The U.K. The App, Called Tudder, Like Tinder, Allows Farmer Or Breeders To Swipe To The Left Or Right To Either Accept Or Reject Potential Breeding Partners. Let's Not Stop There, What About Other Animals Like Dogs And Cats?

Share

Antwan Hockaday posted an update in the group App 2 years, 12 months ago

Many of Us Get So Easily Distracted That We Hardly Get Anything Done. Now, There Is An App For That. A Brain Training Game App, called Decoder, Has Been Developed By Researchers At Cambridge University, And It Is Said To Have The Same Effect As Ritalin, A Medication, With Regards To Helping People Stay Focused.

Share

Abbey Carper posted an update in the group App 3 years ago

Pretty Cool! The First Smart App Called "Second Chance" Is Said To Be Able To Monitor Opioid Overdose From 3 Feet Away. The App, Which Uses Sonar, Is Said To Be Able To Detect Overdose Symptoms From A Person's Breathing Pattern 90% Of The Time. When Overdose Is Detected The Apps Sends Out A Call For Help.

Share

Abbey Carper posted an update in the group App 3 years ago

Any Help Towards Solving Long Shopping Check-out Queues Would Be Much Appreciated. This Is What An App, Perpule, In India Does. It Enables A User To Find Their Product, Scan The Bar Code, And Then Pay For It Via The App, Thereby Bypassing The Long Queues. Big Shopping Corporations Could Use Such An App.

Share

Ken Yun posted an update in the group App 3 years ago

Always Seeking A Second Opinion On What A Text Message, From Someone, Means? Then You May Be In Luck As There May Be An App For That. The MEI App, According To The Developers, Is Said To Used 5 Personality Algorithm To Help One Interpret The Real Meaning Behind A Text Message. For Real!?


Mei: Messaging Improved. The world's first messaging app with a real-time AI assistant.

Share

foolishlywise posted an update in the group App 3 years, 2 months ago

Interesting! A New App Could Help One Reduce Plastic Waste And Save Money. The App, "Tap," Is The Google Map For Locating Water Fountains And Refill Stations. The App Also Allows Search For Unfiltered, Sparkling or Flavored Water. The App Can Be Used In Major Cities Like New York To New Delhi

Birthdays

You must be logged in to see the birthday of the people you follow.

Invite some friends!

Thanks for inviting your friends. Please try other network if you wish.

Side Menu

Do NOT follow this link or you will be banned from the site! This is a social network for those interested in unique and valuable information!