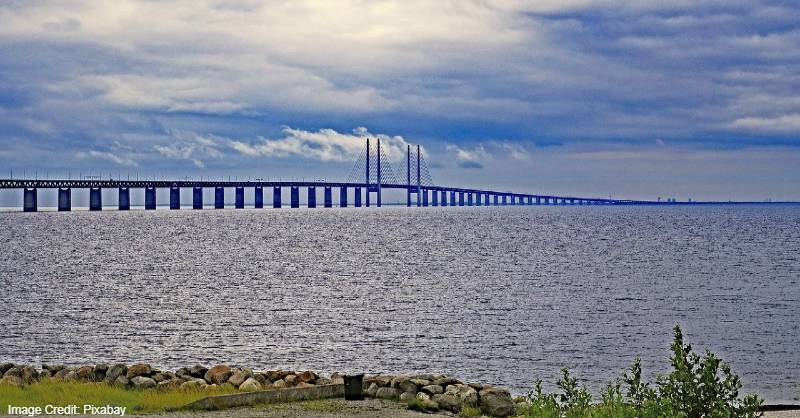 The Øresund Bridge, one of the major tourist attractions in Europe, is a great way for tourists to see a local landmark, and travel between Denmark and Sweden at the same time.  The bridge is the longest road and rail bridge in Europe, and it takes about 10 minutes to cross.
Construction on the bridge was finished three months ahead of schedule, despite construction crews discovering 16 unexploded World War II bombs on the seafloor.  Parts for the bridge were towed out and put together using a large floating crane.
The connection is actually in three parts – the bridge, the manmade island, and the tunnel.  Two support towers, each 669 ft high, use giant cables to support the roadway, which accounts for about 5 miles of the connection.  The manmade island, named Peberholm, is home to over 500 different species of plants and is a sanctuary for rare species of birds and animals.
Sweden and Denmark had been in talks of a connection for more than 100 years before the Øresund bridge was built.  It opened June 1st , 2020 to foot and bike traffic prior to its official opening in July.  It is jointly owned by the two countries, and joins the two main cities of Copenhagen and Malmo.  Approximately 20,000 commuters travel on the bridge per day, with about 2/3 of that number coming from the train.
The year after the bridge opened, it saw a 61% increase in traffic between the two cities, and this number has steadily increased since 2005.  Much of this is attributed to Sweden's low housing costs, allowing those who work in Denmark to commute.
If you are planning to use the bridge, purchasing your ticket online in advance will save you some cash.  There are also discounts available if you make the drive outside of rush hour traffic, and make the return trip within six hours.  Remember that because you are traveling across a land border, all occupants must carry a valid passport.