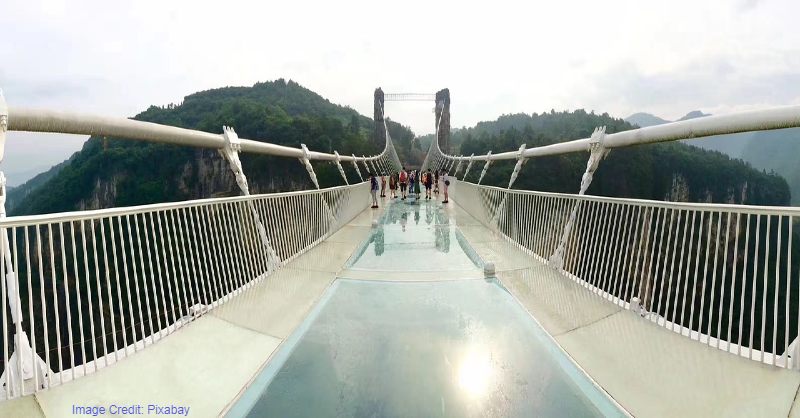 Unnamed Road , Zhangjiajie Shi, Hunan Sheng , China
Of the over 2,300 glass bridges in China, the Zhangjiajie Glass Bridge is the one to see.  At the time it was built and opened to the public in 2016, it was the longest and highest glass-bottomed bridge in the world.  It is one of the popular tourist attractions for thrill-seekers, and was built to resemble a dragon flying over the valley.
The bridge spans 1410 ft across a canyon in a National Forest Park, about a half-hour bus ride from Wulingyuan in Hunan Province.  The walkway is roughly 980 ft above the ground.
The bridge can hold 800 people at a time, but was so popular when it opened, it drew crowds of over 8,000.  120 tempered glass panels are spread out over the bridge, providing a clear view into the canyon below.  If your stomach can't handle the glass panels, you can walk instead over the metal walkways, and enjoy the view from the sides of the bridge.
Operators will provide you with cloth shoe covers so you don't scratch glass.  You won't be allowed to carry a camera, for fear that you'll drop it and damage the glass, but cellphones are allowed.
If you're feeling particularly brave, consider zip-lining under the bridge, or even bungee jumping from one of the platforms.  Nearby is the world's highest and fastest outdoor elevator.
Safety checks are completed on the bridge regularly, and each panel of glass is three layers, so even if the top layer is damaged by an object, the bottom two layers remain in place for support.
You can only purchase tickets in advance, through a tour agency.  The prices range depending on the activity: For the canyon only (118 yuan), the canyon and the bridge (219 yuan), or the glass bridge only (138 yuan).  If you add bungee jumping, it will cost around 3000 yuan.  Check-in advance to ensure the bridge is open, as it will close in severe weather.
Wednesday
7:30 AM - 4:00 PM
Thursday
7:30 AM - 4:00 PM
Saturday
7:30 AM - 4:00 PM