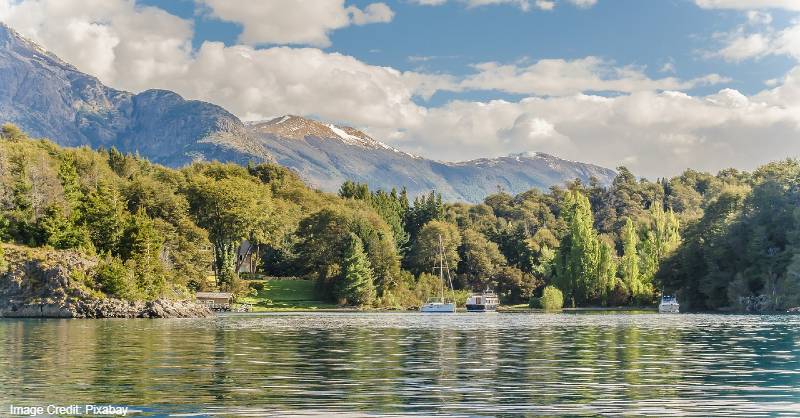 Los Lagos Department, Neuquen , Argentina
Argentina's oldest park, Nahuel Huapi, receives 800,000 tourists/visitors per year.  It is one of the main tourist attractions/destinations in Argentina, and the second-largest park in the country, covering 2 million acres.  It is split into two sections, the park, and the nature reserve.  The park contains small parts of the Valdivian rainforest, the high mountain chain of the Andes, and borders Chile.
Nahuel Huapi translates as "jaguar island", and is named for the main lake in the park.  The lake, formed as glaciers slowly receded during the ice age, is the largest and deepest clear water lake in the region, at 1394 feet deep.  It was the site of Argentina's nuclear fusion experiments in the 1950s.  It even has its own lake monster, Nahuelito, a strange creature similar to Nessie in Scotland, documented since at least the 1890s.  Even the Argentinian Navy is said to have chased this monster!
Within the park, there is a ski resort on the highest peak, Cerro Tronador, which is an extinct volcano that stands at 7835 feet.  It is named "Thunder Mountain" for a reason – you will be able to hear the ice breaking from the glacial peak.  This peak is said to be melting at an alarming rate, and may not be visible in the next decade.  The views from the resort are stunning, especially from the chair lift.  Visitors to the park can fish, kayak, mountain climb, ski, raft, or kite surf.  There are accommodations within the park, and places to camp.
There are some points to the park that require an admission fee of 120 ARS, which is roughly $1 USD.  By boat, you may be asked to pay a boat tax.
The closest city is San Carlos de Bariloche, and during months with high tourism, you will be able to board a bus that will take you into the park.  There are a number of hotels and resorts in the area if you prefer not to camp.  The city is best known as the Chocolate Capital of Argentina, so make sure to stock up on sweets while you are there.
Wednesday
8:00 AM - 4:00 PM
Thursday
8:00 AM - 4:00 PM