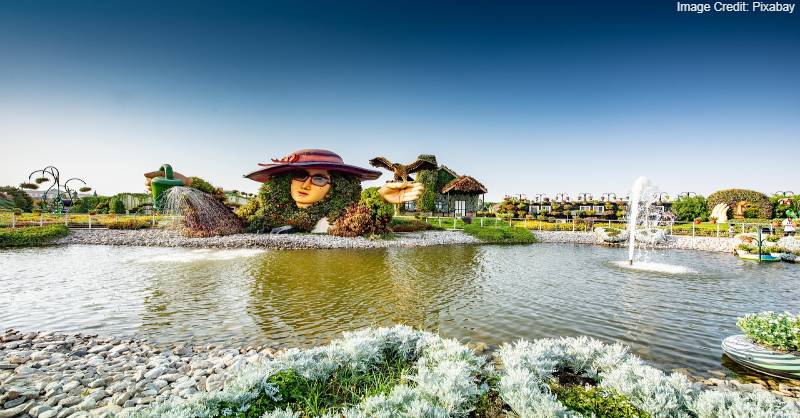 Dubai, Dubai , United Arab Emirates
The Miracle Garden is a tourist attraction away from the hustle and bustle of Dubai.  It won a Garden Tourism Award in 2015 and holds three Guinness World Records – World's largest vertical garden, the biggest flower structure (for the Airbus A380), and the tallest topiary support sculpture (Mickey Mouse).
The garden opened on Valentine's Day 2013 and is fittingly decorated with beautiful heart-shaped flower arches.  The garden encompasses 780,000 sq ft, boasting over 50 million flowers, and 250 million types of plants.  It cost approximately 11 million USD to build.  More than 1.5 million people visit the gardens every year.
The gardens require about 200,000 US gallons of water a day.  They are watered in the evenings only, by re-used wastewater that is filtered on-site.
While the entire garden is lovely, there are a few must-see floral arrangements.  A 15m high working floral clock is prominent in the center of the garden.  The Airbus A380 is a double-decker jet airliner, recreated entirely from 500,000 flowers.  There is a section of the park devoted to beloved Disney characters, with Mickey Mouse in pride of place as the largest supported topiary structure in the world.
A Butterfly Garden is attached to the gardens, which features more than 15,000 butterflies.  Tickets to both tourist attractions can be bundled together in advance, or you can buy a ticket at the door.  When you are finished touring the gardens, there are retail stores and mosques to visit in the area as well.
You can reach the gardens by taxi from the Mall of Emirates in less than 15 minutes.  Plan to spend between 1-3 hours at the gardens.  Because of the heat, the gardens are closed from May through September.  If you're planning to visit during the warmer months, try to arrive in the morning to beat the heat.  You can find plenty of shade throughout the garden, under the cabanas and gazebo, or at one of the refreshment stands.
Wednesday
9:00 AM - 9:00 PM
Thursday
9:00 AM - 9:00 PM
Saturday
9:00 AM - 10:00 PM