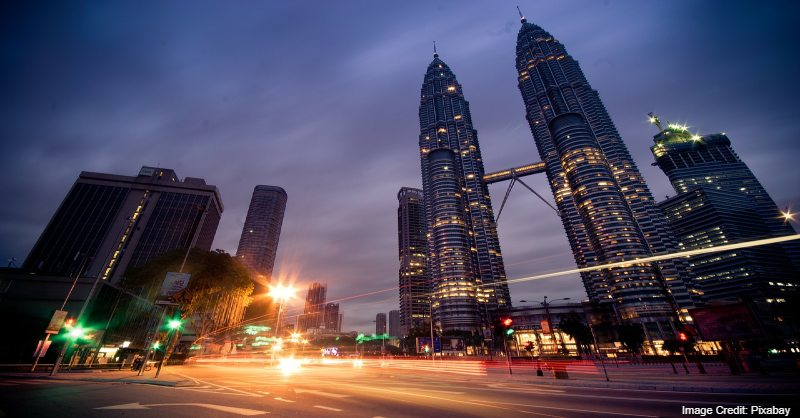 241 Jalan P. Ramlee , Kuala Lumpur, Wilayah Persekutuan Kuala Lumpur 50088, Malaysia
The Petronas Twin Towers (Also known simply as Petronas Towers), Standing at a staggering height of 451.9 metres and with 88 storeys, is the tallest set of twin towers in the world.  The Petrona Towers, Malaysia's crown jewel located in the country's capital, Kuala Lumpur, was actually the tallest building in the world up till 2004 when it was overtaken by the Taipei 101 building in Taiwan. 
And the tower is pretty popular as It welcomes over a million visitors annually.
Construction started in 1992 and was completed in 1998, quite a short turnover time for a building so large. And the construction is said to have cost $1.6 Billion. 
The name Petronas is actually derived from the name of Malaysian petroleum giants, Petroleum Nasional Berhad, who have their headquarters in the building. 
The building is quite iconic and has been the setting for a record-breaking parachute jump by Austrian skydiver Felix Baumgartner and a record-breaking climb by Frenchman Alain 'Spiderman' Robert. It has also been featured in a number of Hollywood and Bollywood films.
Tourists can pay a visit to the Suria KLCC Shopping mall housed within the towers, the KLCC park just outside the towers ( which has a lighted fountain, beautiful walkways, and a kids playground), and a skybridge, connecting both towers, which has, from above, a beautiful view of the city of Kuala Lumpur.
Source: Petronastwintowers and Wikipedia
Tuesday
11:00 AM - 4:00 PM
Wednesday
11:00 AM - 4:00 PM
Thursday
11:00 AM - 4:00 PM
Saturday
10:00 AM - 6:00 PM