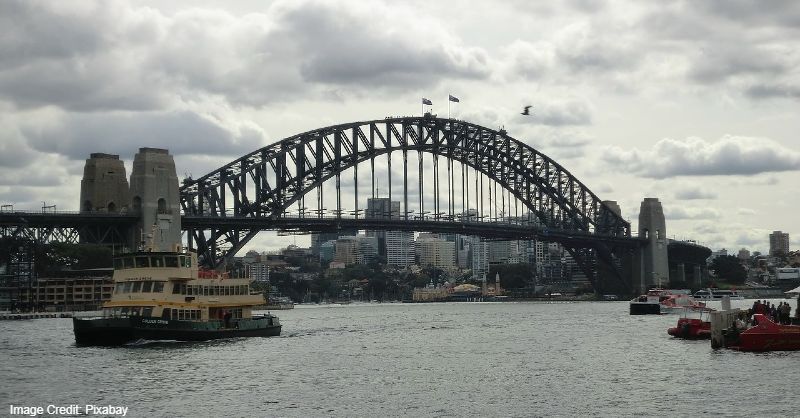 Cahill Expressway , The Rocks, New South Wales 2000, Australia
The Sydney Harbour Bridge is one of the longest steel arch bridges in the world. Along its length, it has four railroad tracks, a highway, and two sidewalks. The bridge, which opened in 1932, is the main transportation hub between Sydney and the suburbs on the north side of the harbour. The bridge, which spans about 500 meters (1,650 feet), is Australia's iconic structure and has been a tourist attraction since its construction.
More than 10.9 million people visit each year the Sydney Opera House, one of Australia's major tourist attractions, which is close to the Sydney Harbour Bridge.
In 1912, John Bradfield, a civil engineer of the New South Wales Department of Public Works, submitted a plan for the construction of a bridge in Sydney Harbour to the Australian Parliament, including the design of a suspension bridge or cantilever bridge. 
Two years after Bradfield submitted his plan, his cantilever design was accepted and he was appointed as the project leader. However, due to the First World War, work on the bridge was postponed, and funding for the project was not available until 1922, with the passage of the Sydney Harbour Bridge Act. At that time, advances in steelmaking also made it possible to build arch bridges. 
The construction contract was awarded to the British company Dorman Long & Co., which hired Sir Ralph Freeman for detailed design work. The final approved plan calls for a steel arch bridge to connect Dawes Point in the south and Milsons Point in the north. 
The arch bridge was chosen because it is cheaper than the cantilever beam design and can handle heavier loads. Construction began in 1924 under the supervision of Bradfield. The deep waters of Sydney Harbour made temporary supports impractical, so steel arches were assembled by building on each river bank. The two sides met in the middle of 1930, and an elaborate ceremony was held on March 19, 1932, to officially open the bridge.
The tourism aspect of this iconic bridge is managed by BridgeClimb. Since 1998, BridgeClimb has established itself as an integral part of Sydney's scenery. BridgeClimb allows you to zoom to the top of the world-famous Sydney Harbour Bridge and perform 4 different climbs; BridgeClimb, BridgeClimb Express, BridgeClimb Mandarin, and BridgeClimb samplers. The climb takes place at dawn, day, dusk, and night. The center has helped nearly 4 million local and international tourists climb the bridge.
Source: Britannica, BridgeClimb, and Wikipedia