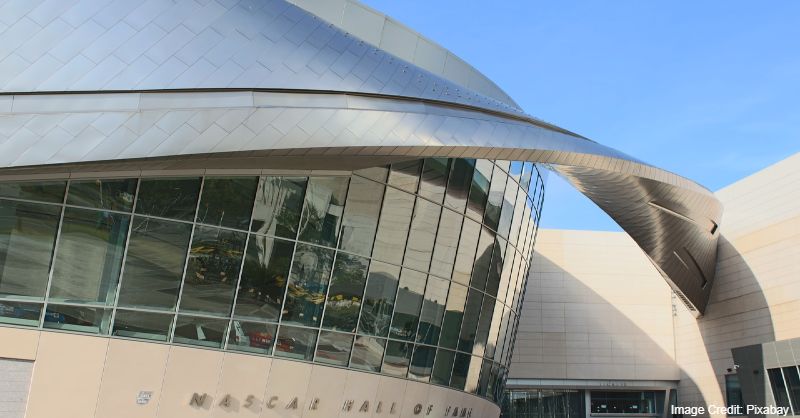 400 East Martin Luther King Junior Boulevard , Charlotte, North Carolina 28202, United States
The NASCAR Hall of Fame is a shrine to the history of the sport of stock car racing in the United States.  The attraction is located half a mile from downtown Charlotte, and is a must-see destination if you are in North Carolina.
The Hall of Fame was built in 2010, costing over $160 million USD, and welcomes approximately 200,000 tourists per year.  It features four floors, a 64-foot wraparound theater, and a state-of-the-art racing simulator.
Visitors will enjoy a truly immersive experience, as this destination features plenty of touchscreens and interactive displays to compliment the real cars.  The cars within the Hall represent six generations of vehicles, including a 1952 Hudson Hornet, and the 1967 Plymouth that Richard Petty drove to 27 victories.  The Hall of Fame also features the drivers, and their own personal stories, who have been inducted, such as Dale Earnhardt.
The history of NASCAR is closely tied to the history of the United States.  NASCAR traces its history to Prohibition, when drivers modified their cars to outstrip police cars on their way to distribute whiskey.  When prohibition was lifted, these stock cars continued to race for fame and fortune, eventually leading to the NASCAR Cup Series.
The Hall of Fame also offers an all-inclusive tour featuring behind-the-scenes access to race shops in Charlotte.  These shops include Team Penske, Kyle Busch Motorsports, Chip Ganassi Racing, and more.  The $99 ticket includes the tour, lunch, plus a general admission ticket to the Hall of Fame.  This tour is recommended if you have a full day to devote to the tour.
Though you can purchase general admission tickets starting at $18, it is recommended that you add one of the combos to your admission.  You will save if you would like to do an audio tour, ride the simulator, or grab a bite to eat in the Pit Stop Café.
Keep an eye out for other events at the Hall, when you may even be able to meet one of your favorite drivers.
Source: Foxnews and Nascarhall
Wednesday
10:00 AM - 5:00 PM
Thursday
10:00 AM - 5:00 PM
Saturday
10:00 AM - 5:00 PM