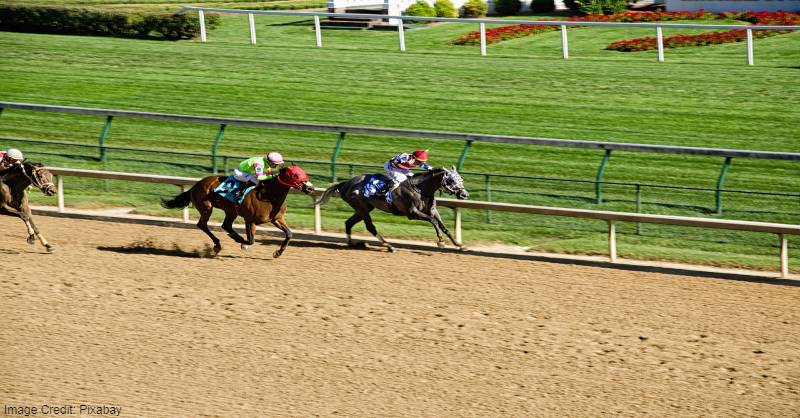 700 Central Avenue , Louisville, Kentucky 40214, United States
Churchill Downs is the home of the World Famous Kentucky Derby, described as "The Greatest Two Minutes in Sports." The race is the first jewel in the Triple Crown, and ran uninterrupted in the city of Louisville, Kentucky for 144 years prior to the COVID-19 pandemic. The race is held, annually, on the first Saturday in May.
During the Derby Weekend, the entire city of Louisville becomes packed with tourists. Because admittance to the race itself is limited, many tourists skip the General Admission and instead opt for what are akin to tailgate parties. The classic Mint Julep, a cocktail of bourbon, simple syrup, and mint, will be served at all local bars. Louisville is known for their bourbon distilleries, and the Julep is an excellent way to sample this Kentucky whiskey.
The Derby alone draws a crowd of more than 150,000 annually, however, Louisville itself boasts over sixteen million visitors per year. While Derby weekend is the best time to experience Louisville, Kentucky, if you are unable to visit for the Derby itself, a trip to Churchill Downs is still a worthwhile visit at any point during the year.
A guided tour of the grounds will allow you to see how Stakes horses are trained prior to the Derby. You may even be lucky enough to see a future winner! Take a walk through the Jockeys' Quarters, where the short-statured men and women prepare to mount up on race day. And don't miss a glimpse of Millionaires' Row, where restaurant tables that overlook the most famous races start at $36,000.
The Kentucky Derby Museum, located just steps from Churchill Downs and 10 minutes from Downtown Louisville, offers a fascinating look into the history of the Derby. It features memorabilia from famous horses and their jockeys. These horses include Northern Dancer, American Pharoah, Barbaro, War Admiral, and the famous Secretariat.
There is even a simulation area, Rider's Up, where you can select from a variety of horses and Race for the Roses.
Sources: Derbymuseum  and Churchilldowns
Wednesday
9:00 AM - 5:00 PM
Thursday
9:00 AM - 5:00 PM
Saturday
9:00 AM - 5:00 PM