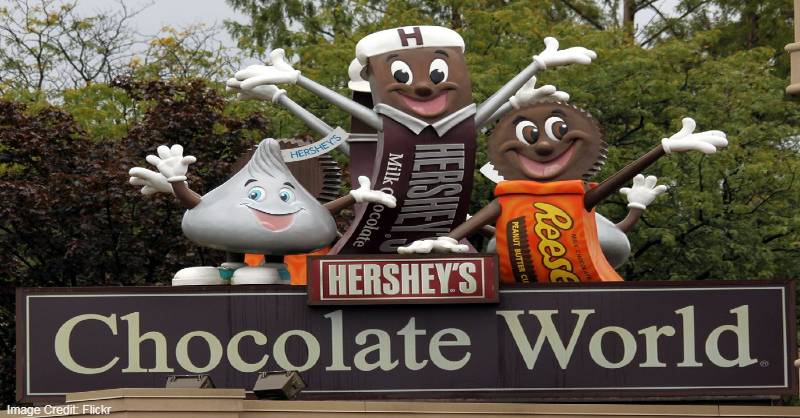 101 Chocolate World Way , Hershey, Pennsylvania 17033, United States
Hershey, Pennsylvania is home to Hershey's Chocolate World, and described as "The Sweetest Place on Earth". As you walk down the streets, you will notice a theme of chocolate just about everywhere. Hershey Kiss-shaped streetlamps line Cocoa and Chocolate avenues, and the sweet smells will greet you as you approach the candy factory.
Chocolate World will allow a fully immersive experience into how chocolate is made. This 30 minute animated free tour of a real chocolate factory, great for kids and big kids alike, shows how cocoa beans are transformed into the chocolate bars that Hershey produces. You will receive a free chocolate sample at the end of your tour.
You can extend your tour with a 4D movie, or even create your own candy bar. While creating your own candy bar, you will select your own type of chocolate, fillings, and design the cover of your bar. While these portions are an extra cost, they will enhance your experience at Hershey, and you will receive a custom souvenir.
A gift shop and restaurant are on-site, featuring, of course, Hershey's chocolate bars.
When you are finished touring the factory, be sure to check out the other attractions within the town, which include a chocolate theme and water park, Hersheypark®, and the Hershey Gardens, a 23-acre botanical garden, and arboretum.
These features were built by the founder of Hershey, Milton Hershey, and built as a thank-you to the residents of the town. The Trolley Tour, a 75-minute historical tour, will take you through the entire town, providing easy sightseeing and entertainment for the whole family.
Sources: Hersheys and Visithersheyharrisburg
Tuesday
10:00 AM - 5:00 PM
Wednesday
10:00 AM - 5:00 PM
Thursday
10:00 AM - 5:00 PM
Saturday
9:00 AM - 6:00 PM