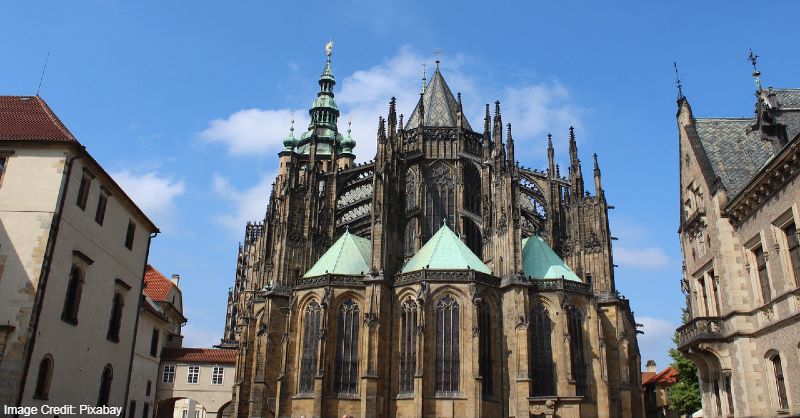 39 Vikářská , Praha 1, Hlavní město Praha 119 00, Czech Republic
When looking for one of the major tourist attractions in the Czech Republic, the Metropolitan Cathedral of Saints Vitus, Wenceslaus, and Adalbert otherwise known as the Vitus Cathedral is an exciting place that wears a splendor of faith and creativity of ancient times. Vitus Cathedral is the largest and most important church in the country.
Being the symbol of Catholicism in the Czech Republic, it is where the Archbishop of Prague oversees the affair of the churches in the country. The cathedral was dedicated to Saint Vitus. But there was a shift in paradigm and it stopped being dedicated to Saint Vitus in 1997. However, St. Vitus Cathedral remains the name by which it is called.
This cathedral is a distinguished example of gothic architecture. It is not only the church structure that tourists get to see by visiting this tourist attraction. They get to discover the tombs of many Bohemian Kings and Holy Roman Emperors whose burial ground is in the Prague Castle.
Since it is controlled by the government, the Cathedral has also been categorized as the government's property. It is a place to see the remains of the ancient period of the church and its worshippers. It is significant as the heart of Catholicism in the Czech Republic.
The construction of the present-day cathedral started as early as 1344 at the time the announcement about the elevation of the seat of Prague was made. Its design had a significant impact on the development of the late gothic style characteristic for the central part of Europe. It is an amazing tourist attraction that everybody should see and have a brief foray into the architectural design of Prague's cathedral with great historical reference.
The place welcomes hundreds of thousands of visitors annually and more visitors can still visit the cathedral for knowledge and fun. It will be a good place for spiritual exercise in case you are a catholic and would like a serene environment to reflect on your spiritual life. This doesn't mean a non-believer wouldn't find tangible other things to do. It is a place for everybody.
Source: Wikipedia, Vitus Cathedral
Wednesday
9:00 AM - 4:45 PM
Thursday
9:00 AM - 4:45 PM
Saturday
9:00 AM - 4:45 PM