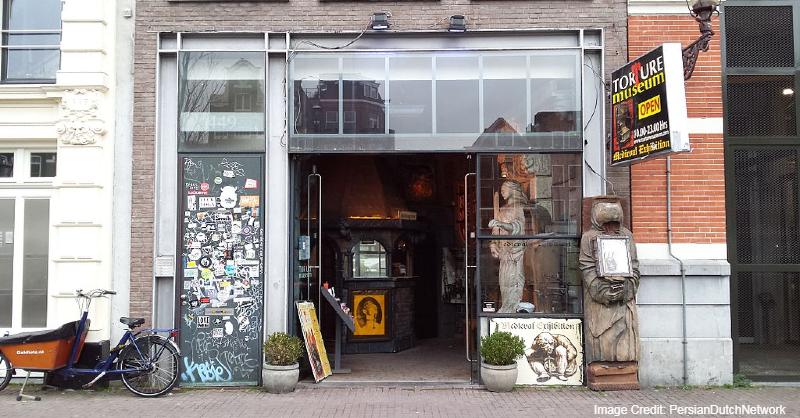 If you are a history buff touring Amsterdam's tourist attractions, then stop by the Torture Museum, which overlooks the Singel canal.  The museum is a maze within a small house, featuring a variety of torture devices and their history.  It is a must-see for tourists who have an interest in obscure museums.
The museum tells the history of torture and capital punishment, with interesting exhibits, many of which can be touched.  Make sure you take the time to read about each of the items on the plaques, which are translated into over 6 languages.  They explain how and why each of the devices was used, and where the device came from.
There are a number of interesting devices, some well-known, and others less so.  You will find a Flute of Shame, which was used to publicly shame bad musicians.  The flute would be put around their neck so that townspeople could throw rotten food at the offender.
More common (and gory) torture devices can also be found, like guillotines, stretching devices, and stocks.
This is an interesting spot to drop by, for between 4-7.50 euro.  Because it is open so late into the evening, it's recommended that you go at night, making the museum creepier to visit.  There are two torture museums within Amsterdam, and they are not related or connected, so make sure you plan ahead to determine if you want to visit both.
Monday
10:00 AM - 11:00 PM
Tuesday
10:00 AM - 11:00 PM
Wednesday
10:00 AM - 11:00 PM
Thursday
10:00 AM - 11:00 PM
Friday
10:00 AM - 11:00 PM
Saturday
10:00 AM - 11:00 PM
Sunday
10:00 AM - 11:00 PM