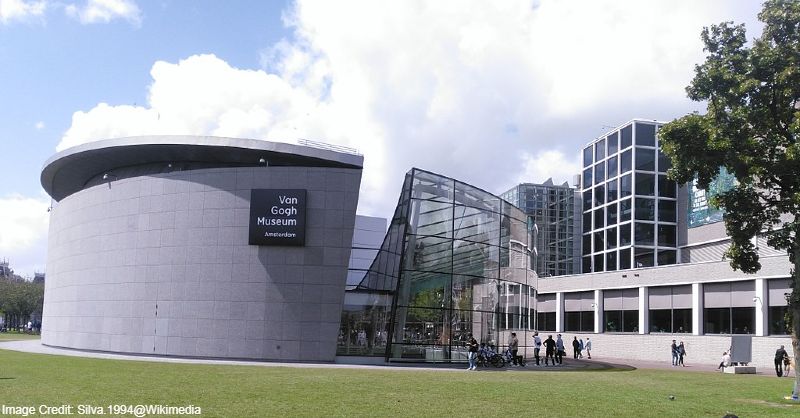 6 Museumplein , Amsterdam, Noord-Holland 1071 DJ, Netherlands
The Van Gogh Museum, located in Amsterdam, the nation's capital, is a museum dedicated to the life and works of World-renowned artist Vincent Van Gogh, who is generally considered the greatest painter after Rembrandt van Rijn, and also one of the greatest of the Post-Impressionists painters. 
The museum, one of the tourist attractions near me in Amsterdam, is the most visited museum in the Netherlands, welcoming between 1.2 and 1.9 million visitors annually. 
The Van Gogh Museum, which consists of two buildings, was designed by two top architects named Gerrit Rietveld and Kisho Kurokawa. The Rietveld building was designed by Gerrit Rietveld while the Kurokawa wing was designed by Kisho Kurokawa. 
Gerrit Rietveld was initially the sole architect for the building. He died just a year after the commissioning and in 1999. Kisho Kurokawa was brought on board and the Kurokawa wing was added to the building.
The Museum was officially opened in 1973 after the Dutch government commissioned plans for it a decade earlier in 1963 as a means of housing and preserving many of Van Gogh's greatest works, many of which had been passed on from his immediate family members from 1890 to 1962, from the time of his death, when the Vincent Van Gogh Foundation was formed. 
The museum, in addition to Van Gogh's works, also has in its collections, works that it bought or that were donated, including works by Van Gogh's contemporaries, like Paul Gauguin and Henri de Toulouse-Lautrec. As well as most notably, Léon Lhermitte and Jean-François Millet paintings–both older artists whom van Gogh admired.
Visitors to the museum can choose to view any of the main exhibitions housed in the Rietveld Building, the temporary exhibitions housed in the Kurokawa wing, visit the museum shop and cafe to buy souvenirs and refreshments, visit the museum library or be a part of the 'Meet Vincent Van Gogh Experience', which is a traveling, 3D immersive exhibition that shows the lifetime of the great artist in form of a timeline of all his works.
Source: Britannica and Vangoghmuseum
Tuesday
10:00 AM - 5:00 PM
Wednesday
10:00 AM - 5:00 PM
Thursday
10:00 AM - 5:00 PM
Saturday
10:00 AM - 6:00 PM