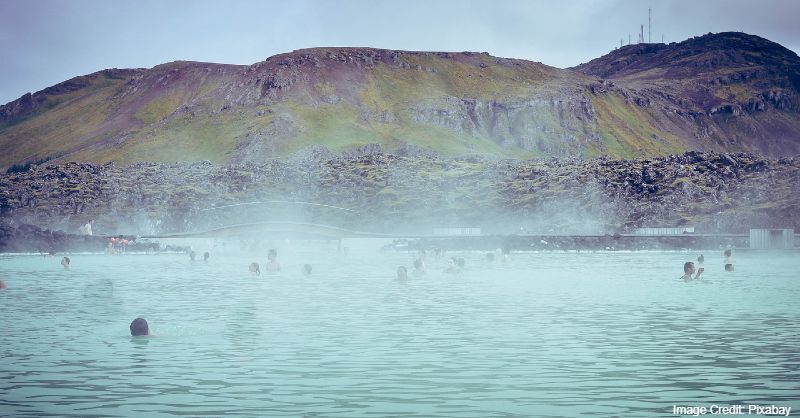 The Blue Lagoon is one of the major tourist attractions in Iceland.  It is a man-made geothermal spa, the byproduct of the geothermal power plant close by that harnesses the earth's heat for power.  The water averages 99-102 °F, giving bathers a unique, relaxing experience. There are a number of these hot springs located around the country due to Iceland's frequent volcanic activity. However, Blue Lagoon is the best known, and best kept, with lots of amenities on site.
Over 1 million people visit the lagoon yearly, and you can visit for a few hours, or choose to stay overnight at one of the two hotels.  There is also a spa on-site, which offers dining, private change rooms, massage treatments, and skincare.
Blue Lagoon's stunning blue water comes from the high silica mud content in the water.  The water and mud are said to have healing properties, and the spot has become popular for psoriasis sufferers.  You can scoop the mud right up from the edge of the pool, and use it on your face.  Because of the high salt content, the water is very clean and does not need to be artificially disinfected.  While some algae grow in the water, no bacteria can reproduce.
If you visit Blue Lagoon during the winter, you may be lucky enough to catch a glimpse of the Northern Lights.  Summer is the most popular tourist season, so you will need to buy your tickets a few days in advance.  You can also purchase tickets that include the bus from the airport, or you can rent a car.
On-site, you will find lockers, and everyone must shower prior to going into the lagoon.  Make sure you pin your hair up or use conditioner, otherwise the salt will damage your hair.  Children under the age of 8 must use arm floats, and all children under 13 are free if they are with a paying adult.  Children must be over the age of 2 to visit.
Wednesday
8:00 AM - 9:00 PM
Thursday
8:00 AM - 9:00 PM
Saturday
8:00 AM - 9:00 PM