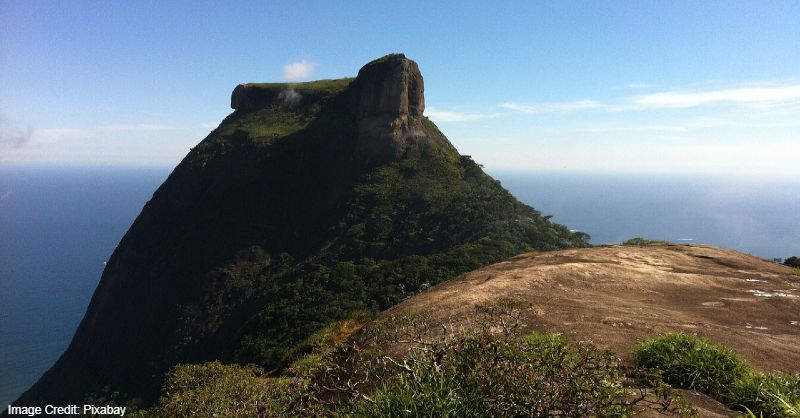 Unnamed Road , Rio de Janeiro, Rio de Janeiro 22611, Brazil
Pedra da Gávea is the largest coastline rock monolith in the world, located in Tijuca Forest. And the monolith is also one of the most popular tourist attractions in Brazil.
This massive rock, comprising granite or gneiss, is about 844 meters tall, making it also the highest mountain in the world that ends in the ocean.
Pedra da Gávea separates Rio de Janeiro's neighborhoods of São Conrado to the east and Barra da Tijuca to the west. 
Tourists can access the monolith by driving to the trailhead. Or they can use the Metro and then walk the remaining 1.4 mi (2.3 km) to reach the trailhead. But keep in mind that you may not be permitted to start your hike up to the mountain if you arrive at the trailhead after 2 pm local time.
Tourists can then hike for approximately 3 hours to reach the mountain top.
Along the path to the top is the Carrasqueira. This location is a-35 meters high rock that has to be summited to reach the next section of the trail. This scary section usually dissuades many hikers from going further to the top.
But hiking to the mountain is one of the most rewarding experiences for tourists, as they get to see the most beautiful view of the city of Rio de Janeiro.
Wednesday
8:00 AM - 6:00 PM
Thursday
8:00 AM - 6:00 PM
Saturday
8:00 AM - 6:00 PM