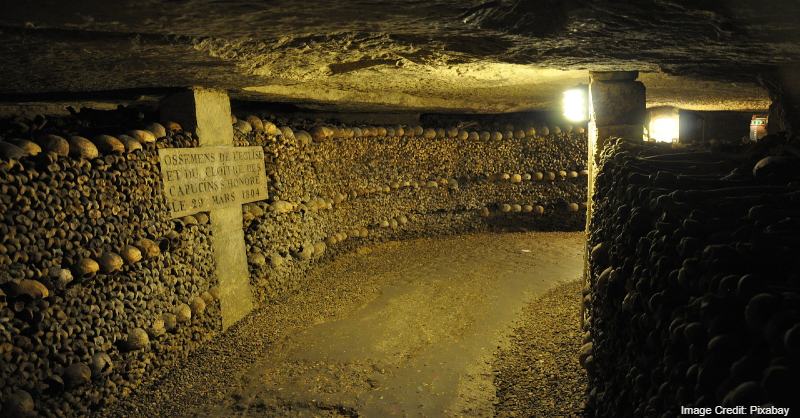 Place Denfert-Rochereau , Paris, Île-de-France 75014, France
The Paris catacombs are a series of underground tunnels that are the final resting place of more than 6 million people, probably making it the largest grave in the world.  This macabre tourist attraction was once a mine for limestone that the city was built from.  Because the Paris cemeteries were overcrowded, in 1786 the parishes turned to the tunnels to house the dead.
At some point, those overseeing the catacombs began to create displays from the bones.  Some of these displays may actually reinforce the walls of the tunnels.
Over 300,000 people visit the catacombs per year, and they have become one of the most visited tourist attractions in Paris.  The tunnels run for over 200 miles, more than 100 feet underground.
Because of the age of the tunnels, there are some interesting architectural elements to be seen under the city, besides the skulls.  This includes a gallery of 18th-century carvings, as well as an aqueduct.
You may run into a group of locals on your tour, called cataphiles, who enjoy spending time in the Catacombs.  They illegally tour the restricted areas on a regular basis and even swim in the flooded sections.  Note that it is illegal to enter the catacombs without a registered guide and that the tunnels periodically collapse in the abandoned areas.
There are legends of locals dying under the city as well.  Philibert Aspairt, a doorkeeper, disappeared for 11 years and was found dead rather close to an exit.
This is not a tour for the squeamish, as you will come face-to-face with hundreds of dead bodies.  The tunnels are managed by the Paris Musees, and viewing them can be combined with other museums around Paris.
If you are visiting Paris at the height of the tourist season, you may wish to buy the skip-the-line passes, which may save you more than 3 hours standing in line.  There is also an audio guide that can be purchased for €5, available in a variety of languages, to give context to the sights.
Tuesday
10:00 AM - 8:00 PM
Wednesday
10:00 AM - 8:00 PM
Thursday
10:00 AM - 8:00 PM
Saturday
10:00 AM - 8:00 PM