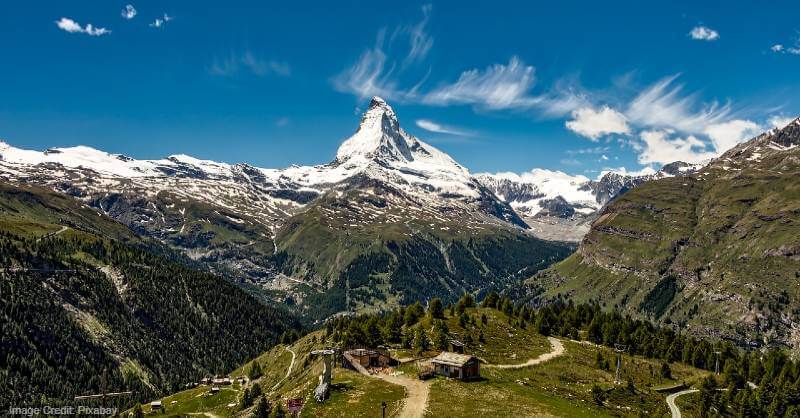 Valtournenche, Aosta 11028, Italy
The Matterhorn, a 14692-foot colossus of a mountain, shaped like a pyramid and very difficult to climb, is said to be the most photographed mountain in the world, and one of the popular tourist attractions near me in Switzerland. The mountain belongs in part to the border and main watershed between Italy and Switzerland; however, it has come to symbolize Switzerland.
The Mountain, one of the tallest in the Alps, is said to be so difficult to climb that during the first ascent of the Matterhorn on July 14th, 1865, four out of seven alpinists lost their lives. 
These alpinists were Edward Whymper, Lord Francis Douglas, Charles Hudson, Douglas Hadow, Michel Croz, and two Zermatt guides, Peter Taugwalder and his son of the same name. Douglas, Hudson, Hadow, and Croz were killed on the descent.
This incident made the Matterhorn world-famous, and dare-devil mountaineers aspired to climb it.
The mountain is also said to attract sightseers, skiers, and snowboarders.
The Hörnli Hut, home to the Matterhorn Base Camp and the Matterhorn mountain inn, is located 3,260m at the foot of the most popular route to the Matterhorn.
Source:  Wikipedia and Myswitzerland
Tuesday
8:00 AM - 6:00 PM
Wednesday
8:00 AM - 6:00 PM
Thursday
8:00 AM - 6:00 PM
Saturday
8:00 AM - 6:00 PM