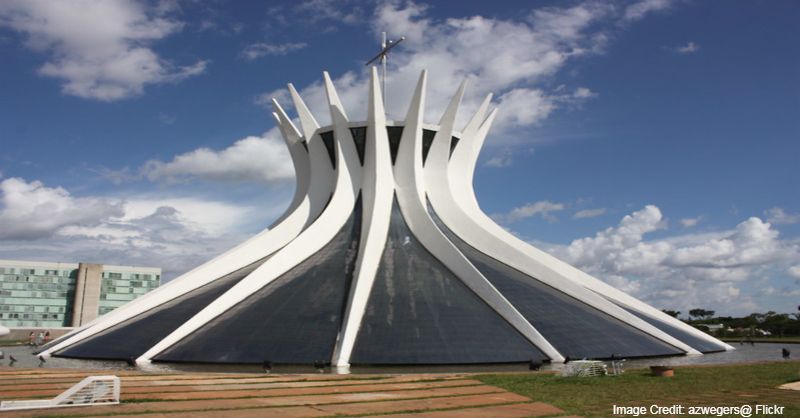 This stunning and unique Roman Catholic cathedral, officially called the Metropolitan Cathedral of Our Lady of Aparcida, is located in Brazil.  This is one of the tourist attractions near me, which is a main draw for both the religious and admirers of great architecture.
It is a hyperboloid structure, a curved tower shaped like an hourglass.  It is held together by 16 identical concrete columns, weighing more than 90 tonnes each, and is capped with a stained-glass roof.  It stands opposite a 66 foot high bell tower donated by Spain, with a reflecting pool directly outside.
The majority of the church sits below ground, with only the glass roof visible.  The stained glass windows, meant to look like a swirling sky, form triangles between the columns.
The cathedral was designed by Oscar Niemeyer, with structural engineer Joaquim Cardozo.  It was commissioned by the government under Communist President Juscelino Kubitschek, meant to be a building for all faiths to gather.  Construction began in September 1958, but stalled in the 1960s after Kubitschek's term ended in 1961.  Due to financial constraints, the cathedral had to be turned over to the Catholic Church for completion, and as of 1970, it has been a catholic Cathedral.
Outside of the entranceway stand four 9.8 feet tall bronze sculptures, each representing one of the four apostles.  The Evangelists line the pathway to the church.  Inside there are three hanging angel sculptures giving the appearance they are flying into the heavens.  The altar was donated by Pope Paul VI.  There is a replica of the Shroud of Turin within the crypt, a piece of linin used to cover the body of Jesus Christ after his crucifixion.
Over 1 million tourists visit the cathedral each year.  You cannot visit during mass, however, the Cathedral is open daily for public visits.
Wednesday
8:00 AM - 6:00 PM
Thursday
8:00 AM - 6:00 PM
Saturday
8:00 AM - 6:00 PM