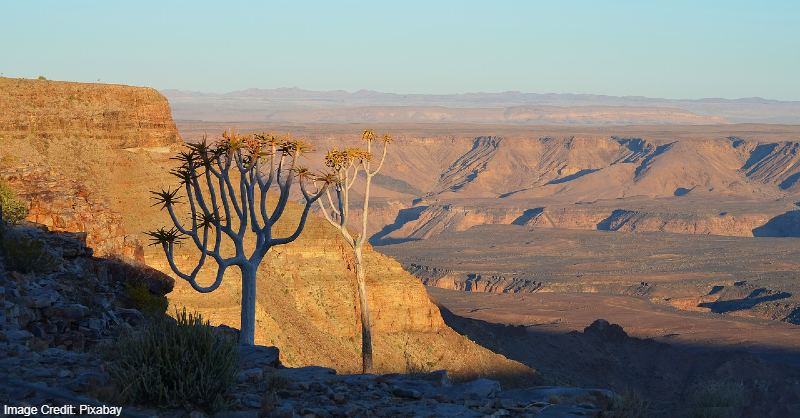 The Fish River Canyon, located in the south of Namibia, is the largest canyon in Africa and is also regarded as the world's second-biggest canyon, second only in size to the United States' Grand Canyon. 
The Fish River, which is Namibia's longest river, measuring 800 kilometers in length, features a gigantic ravine, with a total length of about 100 miles (160 km), a width of about 27 km, and is almost 550 meters deep in certain locations.
The Fish River erodes and carves into some of Namibia's oldest rocks (gneiss) that date back one billion years. The gneiss was exposed at the surface after a massive mountain range was eroded into a large plain flooded by the ocean about 650 million years ago. 
The Fish River Canyon's surprisingly rich and biodiverse life started about 350 million years ago when along an ancient tectonic fracture, a massive grab depression developed that produced the Fish River's vast ancient valley. 
The riverbed is still 300 meters higher than it was 300 million years ago when the grab system was formed. And the canyon's lowest portion is now 549 meters deep.
Tourists can plan a  couple of days' tour to transverse the length of the Fish River Canyon, or view it from a high observation point.
This is definitely one of the tourist attractions near me that many adventurers would like to take a tour of.
Tuesday
8:00 AM - 5:00 PM
Wednesday
8:00 AM - 5:00 PM
Thursday
8:00 AM - 5:00 PM
Saturday
8:00 AM - 5:00 PM