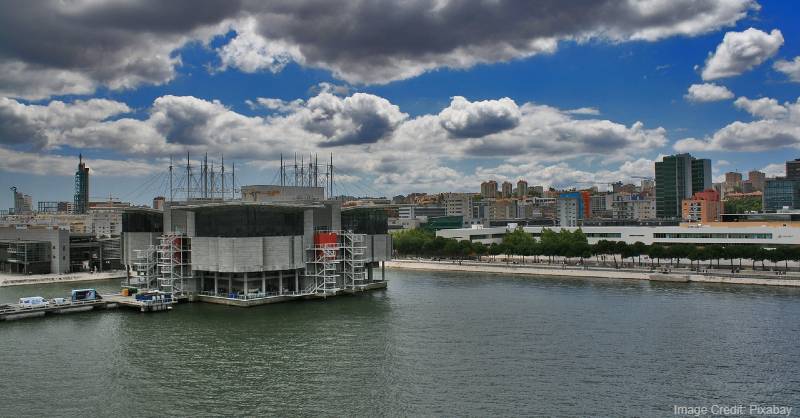 s/nº Esplanada Dom Carlos I , Lisboa, Lisboa 1990-005, Portugal
The Lisbon Oceanarium is the largest indoor aquarium in Europe. It was opened in 1998 as one of the exhibition grounds for the '98 Expo.  
The Lisbon Oceanarium's conceptual design, architecture, and exhibit design were led by Peter Chermayeff of Peter Chermayeff LLC. It is said to resemble an aircraft carrier and is built on a pier in an artificial lagoon. 
The Oceanarium, visited by approximately 1 million people every year,  is the most popular cultural attraction in Portugal.
The Lisbon Oceanarium has a large collection of marine species — penguins, seagulls, and other birds; sea otters (mammals); sharks, rays, chimaeras, seahorses and other bony fish; crustaceans; starfish, sea urchins, and other echinoderms; sea anemones, corals and other cnidarians; octopuses, cuttlefish, sea snails, and other mollusks; amphibians; jellyfish; marine plants and terrestrial plants and other marine organisms totaling about 16,000 individuals of 450 species.
Throughout the first floor, there are an additional 25 thematic aquariums with each of the habitats' own characteristics. 
The Lisbon Oceanarium is one of the few aquariums in the world to house a sunfish, because of their unique and demanding requirements for care. 
Other interesting species include two large spider crabs and two sea otters named Eusébio after the soccer player and Amália, named after the fado singer Amália Rodrigues. After both otters died (Eusébio in 2020 and Amália in 2013), two new otters (named Micas and Maré) were acquired.
Tuesday
10:00 AM - 7:00 PM
Wednesday
10:00 AM - 7:00 PM
Thursday
10:00 AM - 7:00 PM
Saturday
10:00 AM - 7:00 PM