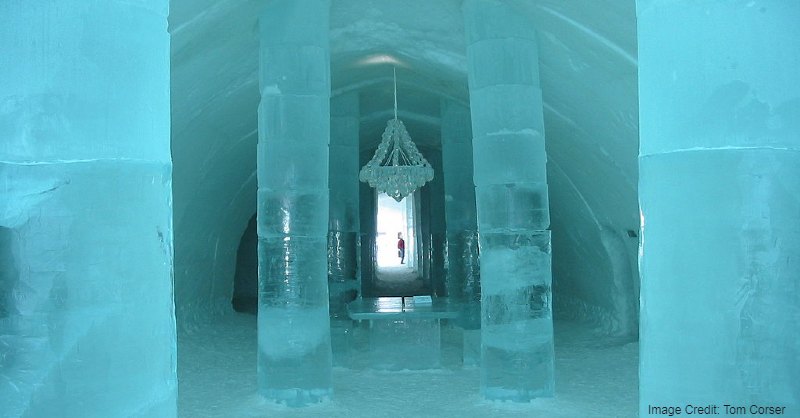 63 Marknadsvägen , Kiruna N, Norrbottens län 981 91, Sweden
The Ice Hotel (Jukkasjärvi), the world's first biggest ice and snow hotel, is a hotel, bar, and art gallery that has become a major tourist destination in Sweden since its debut in 1990.  The hotel, which must be rebuilt every year, is made entirely of snow and ice blocks from the Torne River.  The hotel is kept at a chilly temperature of 23 °F at all times and is only open from December until April when it melts back into the river.
2000 tons of ice is used to create this 64,600 sq ft. masterpiece, which has been visited by hundreds of thousands of people from all over the world.  The hotel's concept has been recreated around the world, but Sweden boasts the original Ice Hotel.
Artists compete to create unique rooms made entirely from ice, which include the "Snowball Room" and the "Icerock Room."  Even the chandeliers are made from ice and can weigh up to 550 pounds.  A bar, with glasses made entirely of ice, serves a variety of drinks that heavily feature Vodka.
While you can stay in the ice hotel, if you are on a budget you may consider staying a few nights in the 'warm' rooms, which are adjacent to the hotel and come with the comforts of Television, heat, and indoor plumbing.  If you choose to stay in the ice hotel, you will enjoy thermal sleeping bags on a bed of reindeer hides, along with a shared sauna in the morning.  While staying the night can be expensive, the service and unique experience are sure to make it worthwhile.
Not only is the hotel itself a draw, but hundreds of couples apply to get married at the attached Ice Church each winter.  You can participate in a number of activities around the hotel, such as reindeer sled excursions and snowmobile tours.  And if you're very lucky, you may catch a glimpse of the awesome Aurora Borealis, visible from near the hotel.
If you're not able to visit the Ice Hotel in the winter, you can visit Icehotel 365 (part hotel, part art exhibit), which is open year-round.
Wednesday
7:00 AM - 8:30 PM
Thursday
7:00 AM - 8:30 PM
Saturday
7:00 AM - 8:30 PM