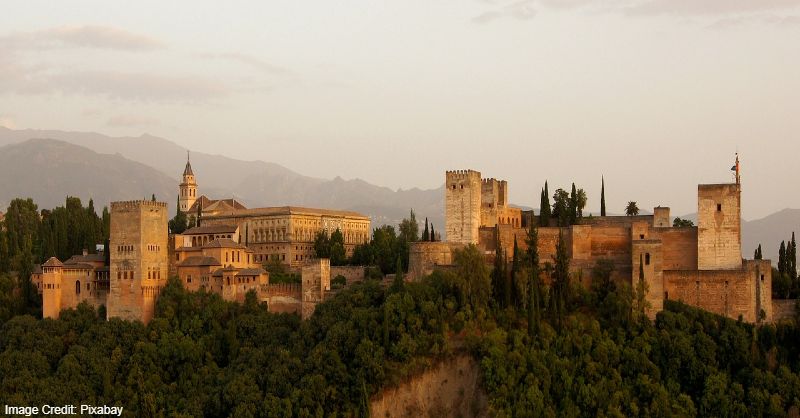 s/n Calle Real de la Alhambra , Granada, Andalucía 18009, Spain
The Alhambra, one of the breathtaking tourist attractions in Spain, is the only surviving royal city from the Islamic Golden Age. It was originally the site of a small fortress built in 889CE.  In the 13th century, the Emirate of Granada built much of what stands today, modeling it after Paradise.  This royal city has a rich history in Spain, at one time serving as the Royal Court of Ferdinand and Isabella, where Christopher Columbus received his endorsement to explore the Americas.
The Alhambra welcomes more than 2 million visitors annually.  Some of the hotels in Granada offer accommodations with spectacular views of the complex, so be sure to check when you book if your room offers a view.
Designated a UNESCO World Heritage site, the medieval palace complex spanning 26 acres is known best for its Islamic architecture.  In Islamic tradition, it is prohibited to draw living things, so much of the palace features inscriptions of poems and geometric patterns that decorate the stucco.  Intricate mosaics are present in the lower portions.
In the early 16th century, the Alhambra underwent renovations, led by the Holy Roman Emperor Charles V, bringing a new Renaissance style to the palace.  It was abandoned for a time in the 18th century, before being repaired and restored to the complex that stands today.
While at the Alhambra, don't miss the Palace of the Lions, a private courtyard with Christian and Moorish influences.  A dozen lion statues that have recently been restored form a fountain, which was an extremely complex water feature for the time it was constructed.
Given its popularity as a tourist destination in Spain, make sure to purchase your tickets online well in advance to avoid disappointment.  You will be given a scheduled time to arrive, and you can explore the gardens and fountains prior to entry.  While you can pay for only entry to the grounds, the tickets to go inside are worth the additional 7 Euro.  There are no informational guides within the complex, so you may wish to look at completing an official tour, which is around 60 USD.
Wednesday
8:30 AM - 8:00 PM
Thursday
8:30 AM - 8:00 PM
Saturday
8:30 AM - 8:00 PM