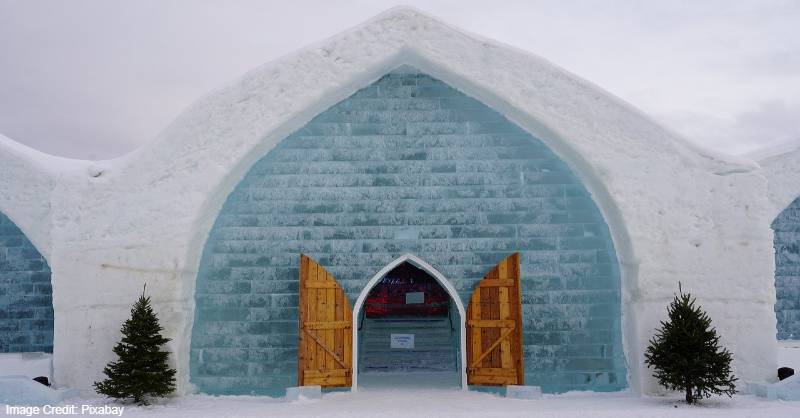 2280 Boulevard Valcartier , Sainte-Catherine-de-la-Jacques-Cartier, Québec G3N 1C9, Canada
The Hotel De Glace, or Ice Hotel, located in the city of Quebec, Canada is the only true Ice hotel in North America. The hotel, an ice engineering marvel, is made of 30,000 tons of snow and 500 tons of ice and the walls are up to four feet thick.
It attracts around 100,000 tourists annually and has had about 70,000 overnight guests since its opening in 2001.
The hotel has a short lifespan of about 3 months, from January To March, due to the nature of the hotel and the ever-changing seasons. It gets torn down at the end of the winter season and is rebuilt at the start of the next winter. This means that the hotel's location has been constantly changing. And since its opening in 2001, it has been moved to different locations across Quebec, from Montmorency Falls to Charlesbourg.
Visitors can choose to view incredible sights, like the
a) Ice Hotel Chapel, where actual weddings ceremonies are conducted
b) the 400 capacity Ice bar, where drinks are served in cups made of ice
Tourists can also view all the themed rooms for staying guests, and have a go on the giant ice slide.
Staying guests, however, get to stay in any of the themed rooms of their choice and have access to all the hotel's facilities including the 'Nordic relaxation area' where there are 5 hot tubs and a sauna.
Source: Valcartier and Wikipedia
Tuesday
10:00 AM - 7:00 PM
Wednesday
10:00 AM - 7:00 PM
Thursday
10:00 AM - 7:00 PM
Saturday
10:00 AM - 7:00 PM