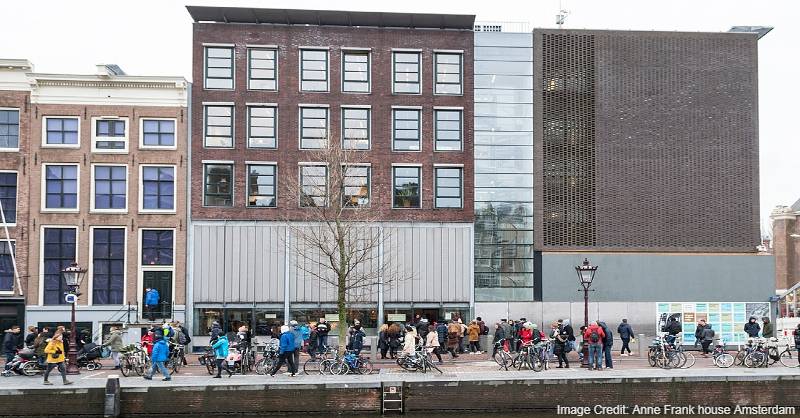 28 Westermarkt , Amsterdam, Noord-Holland 1016 DK, Netherlands
Anne Frank House is a central and one of the main tourist attractions in Amsterdam, focused on the life, death, and of course, the diary of a young girl who met a tragic end.
Anne was a German-Dutch girl of Jewish heritage who went into hiding from the Nazis when she was just 13 years old.  It is estimated that between 75%-80% of the Jewish population in Amsterdam was deported and murdered during this time.
Anne and her family hid from the Nazis for two years before they were captured, and she was killed.  Her diary, which gives insight into her thoughts during the Holocaust, was published by her father, Otto Frank, who wanted her story to be told.  It has since been published in over 70 different languages, and sold over 30 million copies.
The museum tells a story of both hope and heartbreak, and takes visitors through the timeline of the Nazi occupation of the Netherlands.  It was established in 1957 by Anne's father, the only family member to survive the concentration camps, seeking to preserve her memory. The Diary Room, the central feature of the museum, contains Anne's original red-checked diary that her father gave her for her 13th birthday.
In addition to Anne's writings, you will find personal objects from the other families who hid in the annex, who also were killed.  The museum is built into the actual annex that Anne and her family hid in from 1942 to 1944, concealed by a trick bookcase, which was originally part of her father's business.
In 2019, Anne Frank House welcomed more than 1.3 million visitors.  Vital to the museum's purpose is bringing to light the antisemitism that existed both then, and that continues to persist now.  It is a must-see attraction to understand both the occupation and persecution of the Jewish population in Holland.
Wednesday
9:30 AM - 4:30 PM
Thursday
9:30 AM - 4:30 PM
Saturday
9:00 AM - 7:00 PM