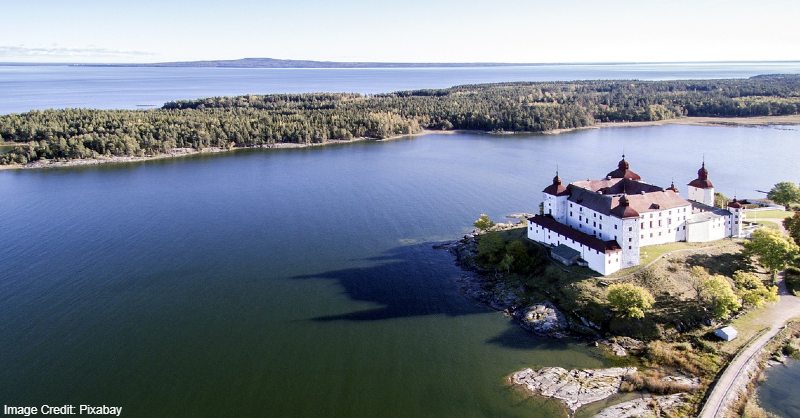 Vänern is the largest lake in Sweden, and the third-largest lake in Europe, with a surface area of 2180 square miles.  It is one of the most popular tourist attractions near me in Sweden.  The lake was formed by erosion and glacier meltwater over 10,000 years ago.  It is located between Götaland and Svealand.
The lake's depth is regulated by the Vargön Hydroelectric Power Station, which uses the lake as a power source.  On average the lake is only 89 feet deep, with the deepest point at 348 feet.
The lake offers plentiful economic opportunities for the surrounding villages and towns which use fishing and easy transportation to support themselves.  Various types of fish are available including salmon, brown trout, and whitefish, among others.
Vänern is also home to Djurö National Park, which includes Djurö island, plus 30 other surrounding islands.  There is no ferry to visit the island; however, you can rent a boat and head to the hunting lodge on the island.  There is also a lighthouse.
Another popular spot on the lake is Kinnekulle, a flat-topped mountain at the eastern shore.  The mountain, standing at 1004 feet above sea level and 4.3 miles wide, was actually once a much larger mountain that has been cut down to a plain through erosion.  This is a popular spot for hiking and camping.  There are some observation towers that look out over the lake, providing stunning views of the area.
Finally, be sure to stop at Läckö castle that is located on the Kållandsö island on Lake Vänern.  This is the second-largest island on Lake Vänern, second to Torsö.  This castle was originally built in 1298 as a fort.  Today it is furnished in Baroque fashion, and open to the public.  Every July, the Läckö Castle Opera puts on opera production in the castle's inner courtyard.