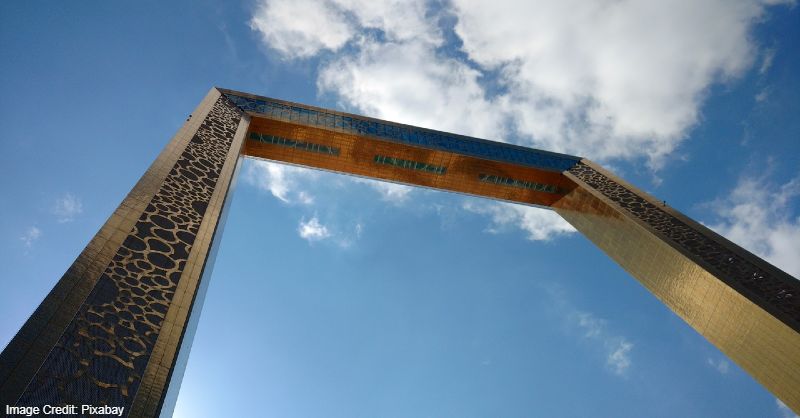 The Dubai Frame, otherwise known as Berwaz Dubai, is one of the popular tourist attractions near me, in Zabeel Park, Dubai.  It is the largest picture frame in the world according to Guinness World Records, standing at 493 feet, and opened nearly a decade after it was designed.  The two pillars, connected by a long bridge, opened in January 2018.
The frame, which attracts more than 1 million visitors every year, is surrounded by gardens in Zabeel Park, making for a nice afternoon if you have time to wander the gardens.
Visitors/tourists can take an elevator to the top of the frame which includes a glass floor walkway and overlooks the city of Deira.  In the center of the frame, you have a 360-degree view of the area.  Tourists can learn the history of Dubai, and see a mock-up of its potential future 50 years from now.  The tour is approximately 1 hour long.
You can also have a light continental breakfast at the top of the frame, which includes a guided tour and skip-the-line admission.  The best time to visit this landmark is at night, when you can see the city lights.
The Dubai frame was inspired by the EXPO2020, giving a past, present, and future look at the city.  The frame itself is gold and ornate, and is meant to frame on one side the older part of Dubai, and on the other the new part with the high rises.
While beautiful, the frame as garnered some controversy thanks to the design being stolen from Mexican architect Fernando Donis.  He won a competition to build the frame, wanting to build a structure that would stand out from other nearby high rises.  Its minimalist design is meant to frame the surrounding landmarks.  When he wouldn't sign over the rights to the design, Dubai hired another firm and built the frame without him.
Wednesday
9:00 AM - 9:00 PM
Thursday
9:00 AM - 9:00 PM
Saturday
9:00 AM - 9:00 PM