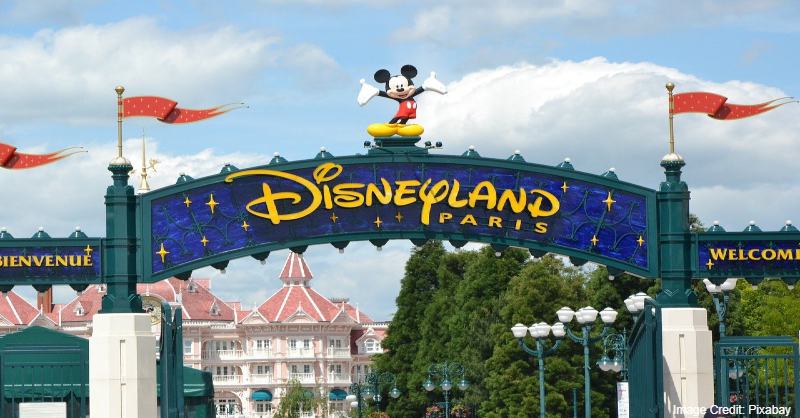 Chessy, Île-de-France 77700, France
Disneyland is often called the happiest place on earth, and the Paris version (formerly known as Euro Disney) is no exception.  Out of all of the tourist attractions in France, you should spend at least one day at Disneyland Paris—the most popular theme park in France.
This was only the second park to open outside of the United States, after the Tokyo resort.  The park was opened in 1992, and at first Euro Disney was not well received.  After a few big-ticket attractions were installed, the park was rebranded and is now a popular attraction with foreigners and locals alike.  The park now sees approximately 15 million people annually.
Disneyland Paris consists of two theme parks – Disneyland Park, and Walt Disney Studios Park.  Disneyland Park is reminiscent of the USA version of the Magic Kingdom.  With over 4800 acres to explore, you can easily spend a few days at the park.  Don't miss the Space Mountain roller coaster, and the central Cinderella castle in the middle of the park.  There's even a large animatronic dragon, the largest at the time that it was built.
The park is slightly smaller than the Florida and California versions, but it features many of the same areas and rides.  Even though some of the attractions look and feel like their USA counterparts, each ride is unique in its own way.  The park is also cheaper, starting at $63 per day.
As with other Disney properties, you can choose to stay on the resort, or off the property.  If you are staying in Paris, you can take the public train in less than 30 minutes.  Try to visit on a weekday, as the park is still very popular with locals who like to visit on weekends.  It can be very expensive to eat at the park, so pick one night where you want to have a fine dining meal in the park (like at Walt's American Restaurant), and then choose the meals you eat at the park wisely after that.
The park opening hours vary with season, but we have indicated the upper and lower time limits here.
Tuesday
10:00 AM - 9:00 PM
Wednesday
10:00 AM - 9:00 PM
Thursday
10:00 AM - 9:00 PM
Saturday
10:00 AM - 9:00 PM