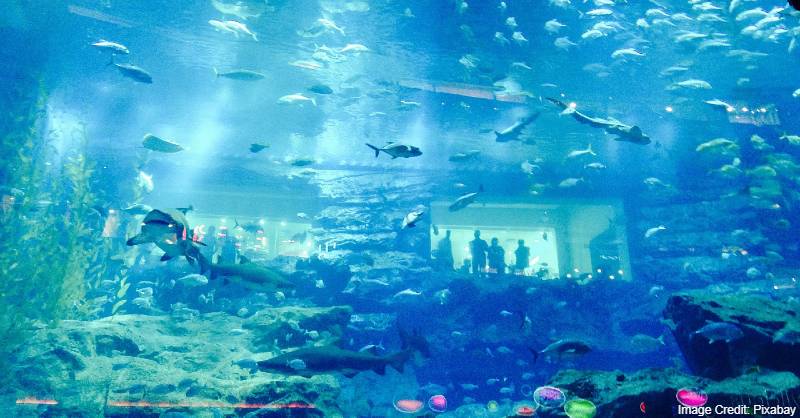 1 Financial Center Road , Dubai, Dubai , United Arab Emirates
Designed by an Australian architectural firm, Peddle Thorp, the Dubai Aquarium is the largest suspended aquarium in the world with over 300 species of marine creatures. The aquarium is enormous with a 10 million liter capacity.
The more than 1.5 million tourists that visit the Aquarium every year are overwhelmed by the wonders of this unique experience in Dubai, which is currently one of the most sophisticated places to be on earth. Tourists enjoy the most intimate interaction with aquatic creatures.
In addition to seeing them directly, the water where these aquatic animals live can be shared by adventurous tourists. They will first be assigned a Dive Instructor who will teach them the basic things to know about the safety tips and necessary skills in the aquarium. After this, visitors will be leaving with the amazing reality of interacting with the wonders of nature like sharks and other aquatic animals. Underwater zoo exposure starts at 1:00 pm, 3:00 pm, or 5:00 pm.
The uniqueness of Dubai Aquarium lies in its ability to mix fun with education. For instance; visitors are given diving tips, and how to interact and feed aquatic animals.
This is a place where you can offer yourself, family, and friends the awesome beautiful experience of living. And I must say that given the many features that this attraction has to offer, and its proximity to me, this is probably one of the best tourist attractions near me.
Monday
10:00 AM - 10:00 PM
Tuesday
10:00 AM - 10:00 PM
Wednesday
10:00 AM - 10:00 PM
Thursday
10:00 AM - 11:00 PM
Friday
10:00 AM - 11:00 PM
Saturday
10:00 AM - 11:00 PM
Sunday
10:00 AM - 10:00 PM