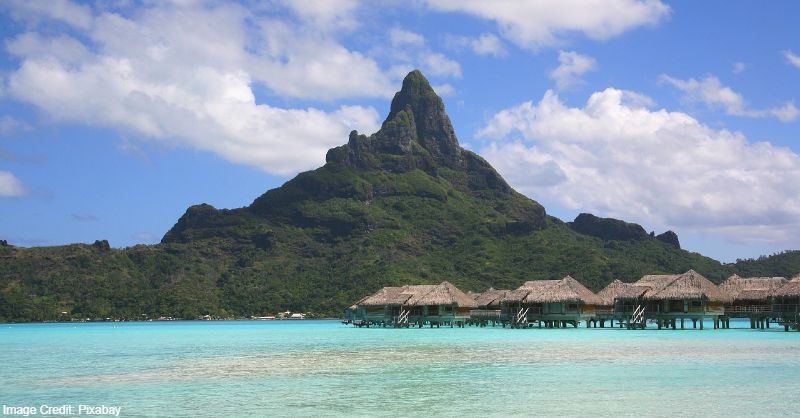 Bora-Bora, Leeward Islands , French Polynesia
Bora Bora is the ideal place for an aqua-centric vacation. With an ideally romantic atmosphere, it is a tourist destination where lovers live their romantic reality.
Bora Bora, which attracts 55000 to more than 64000 tourists yearly, is an island northeast of Tahiti, in French Polynesia, which is an overseas territory of France in the Pacific Ocean. With a total landmass of 30.55 square kilometers, it is an environment for tourists to immerse themselves in the amazing colors of French Polynesia's islands and also experience directly the cool and relaxing atmosphere that still wears the natural scent of life.
Visitors/tourists can also interact with its crystal clear water that is considered one of the most fascinating things about Bora Bora. A good way to enjoy this water view is through the water bungalow with a glass floor that offers a view of the kind of life existing in the lagoon. They can as well go Scuba diving, hiking, horseback riding, surfing and also witness the traditional dance shoes by the natives.
For couples that are confused about finding one of the great tourist attractions to go for a vacation, Bora Bora is a place to relive a honeymoon moment. For newlyweds, it is an amazing way to live in the moment of marital bliss. The languages spoken on the island shouldn't be a source of concern. Though Tahitian and French is the main language, visitors who can speak English can also feel at home on the island because of the influx of English speaking visitors that have influenced the natives to adopt English as one of their languages.
To keep the memory of the island alive, tourists visit the Tahiti Cultured pearl shopping and the local handcraft market to purchase items obtained from the sea and the coconut trees.
Bora Bora is an interesting place to visit. This proves why it is the most celebrated island in the South Pacific.