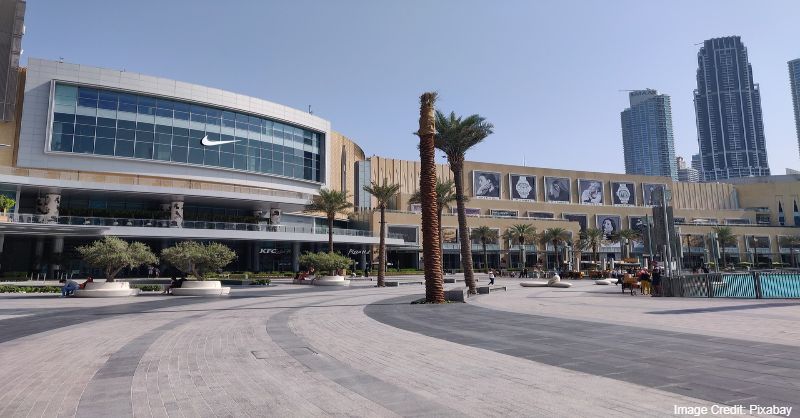 وسط مدينة دبي, دبي , United Arab Emirates
The Dubai Mall is the largest mall in the world by total area, and is the signature flagship shopping and entertainment centre in the United Arab Emirates.  It is over 12 million square feet, and features its own cinema, ice rink, trampoline park, go-kart track, arcade, and aquarium.  It even has an entire floor devoted to one product – perfume.
The mall sees over 75 million visitors per year, and is well air-conditioned to allow an escape from the mid-day sun.  It is a must-see destination for tourists and fashionistas alike, and with so much variety, there is something for everyone at the Dubai Mall.
The mall, one of the major tourist attractions in the world,  is located directly next to the Burj Khalifa, the tallest man-made structure in the world.  When you arrive at the mall, you will have the option of VIP valet service, which will make parking a lot less complicated (AED 50-100).  If you choose to park yourself underground, be very mindful of where you leave your car.  The parking garage is massive and is sectioned off, making moving between the sections very difficult if you do not know where you are going.  If you need to stop by guest services, you will find that they speak over 22 languages.
The mall hosts over 1300 brands, most of which offer tax discounts to foreigners, so keep your passport handy.  In order to not miss any of the stores, be sure to download the mall app, which will help you navigate your way through the collection of shops.  The food court offers more than 200 restaurants and cafes, serving everything from sushi to Mexican.  You will find both fine dining and casual quick eats.
Kids especially will appreciate the mall's resident dinosaur, the Dubai Dino, a seven-meter high Diplodocus Longus fossil, dating back more than 150 million years.
Each night there is a fountain show, featuring the dancing fountains.  Arrive early, as this is a popular free attraction, and viewing space fills up quickly.
Monday
10:00 AM - 11:00 PM
Tuesday
10:00 AM - 11:00 PM
Wednesday
10:00 AM - 11:00 PM
Thursday
10:00 AM - 12:00 AM
Friday
10:00 AM - 12:00 AM
Saturday
10:00 AM - 12:00 AM
Sunday
10:00 AM - 11:00 PM