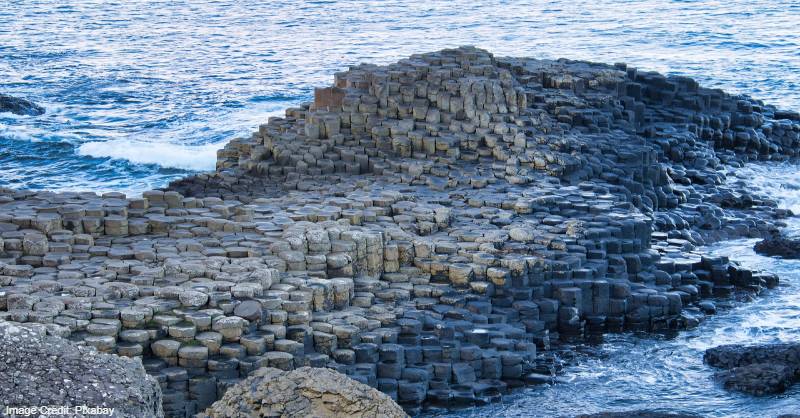 Unnamed Road , Causeway Coast and Glens, Northern Ireland BT57, United Kingdom
The Giant's Causeway, Ireland's only UNESCO World Heritage Site, is a unique attraction and a "must-see" for tourists. If you are staying in Belfast, be prepared to make the Giant's Causeway a day-long excursion. Nearly perfect pillars of hexagons stack into the sea, and what look like giant footprints have been left imprinted in the coast.
The Causeway welcomes just under one million visitors annually, making it one of the most popular destinations in Northern Ireland.
Legend says that the Causeway formed when the giant Finn McCool ripped rocks from the coastline and hurled them into the sea at his rival from Scotland, Benandonner. This formed a pathway that Finn used to travel to Scotland. When Benandonner retaliated, Finn, realizing he was a much smaller giant, ran back to Ireland. Benandonner chased after Finn, but Finn's wife disguised him as a baby. Benandonner, believing that if Finn's child was that large, Finn must surely be much larger, hastily retreated to Scotland, ripping up the Causeway that had been formed.
In reality, these hexagon pillars were formed naturally over 60 million years ago. Quick cooling basaltic lava from a nearby volcano caused the layers of rock.
Visitors /tourists are encouraged to take the audio tour (available in 11 languages), which is included in the Visitor's Center entry fee, so they don't miss the best sights. This includes rock formations that look like objects that fit into the mythology: The Giant's Boot, the Camel's Hump, the Giant's Harp, and the Chimney Stacks.
If you plan to go through the Visitor's Center, book your ticket at least one day in advance. If you can, aim to be at the Causeway a few hours before sunset, so you can enjoy the view of the sun going down. On a clear day, you will be able to see Scotland from the coast.
There is also a bus that will take you down the coastline, saving you the 10-15 minute walk.
Sources: Thegiantscausewaytour and Nationaltrust
Tuesday
10:00 AM - 4:00 PM
Wednesday
10:00 AM - 4:00 PM
Thursday
10:00 AM - 4:00 PM
Saturday
10:00 AM - 4:00 PM