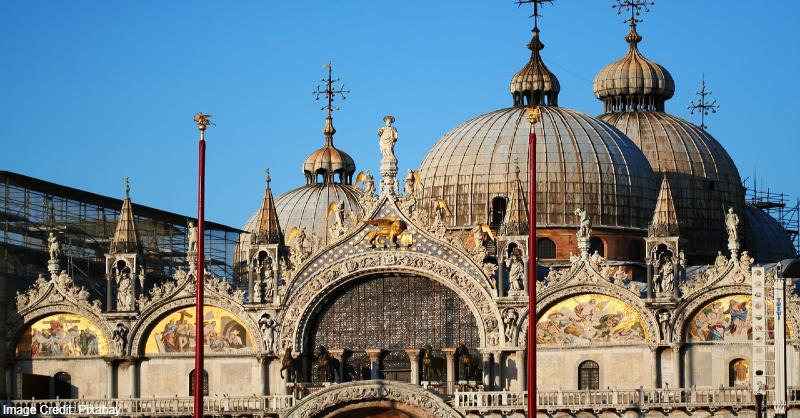 St Mark's Basilica, one of the tourist attractions near me, is the most famous church in Venice, and the city's only cathedral. It is also one of the lavishly decorated churches in the world.  Once the Chapel of Doge, the place of worship for the chief magistrate until 1807, it is a prime example of Italo-Byzantine architecture.  It was originally consecrated in 832, was burned to the ground in 976, and a restoration was completed in 1071.
The construction is of a Greek cross, with five domes crowning the top.  The gold mosaics, number of columns, and other features are influenced by Byzantine styles, particularly the Hagia Sophia in Istanbul.  In fact, many of the sculptures and relics were plundered from Constantinople during the Fourth Crusade.
Don't miss the Madonna Nicopeia, and the four bronze horses, which were also brought back from the conquering of Constantinople.
There are more than 85,000 square feet of mosaics within the Basilica, completed over 8 centuries.  They depict stories from the Life of Christ and the Last Judgement.  These are stunning to see at midday when the light hits the gold interior.  The high alter, commissioned in 976, is one of the most accomplished works of Byzantine enamel, and contains 1927 gems.
The relics believed to be St. Mark the Evangelist, one of the four Apostles, were smuggled out of Alexandria Egypt, and brought to the site of the Basilica in 828.  The journey past the Muslim guards, with the relics hidden by pork, is depicted in one of the mosaics.  The relics remain located in a sarcophagus in the Basilica, with the statue of Saint Mark himself pointing to the location of his remains.
Entry to the Basilica is free for tourists, but keep in mind that Sunday mornings are reserved for mass.  You can attend the mass, but it isn't the time to wander or take pictures – wait until after 2 pm to do so.
Wednesday
9:30 AM - 5:00 PM
Thursday
9:30 AM - 5:00 PM
Saturday
9:30 AM - 5:00 PM