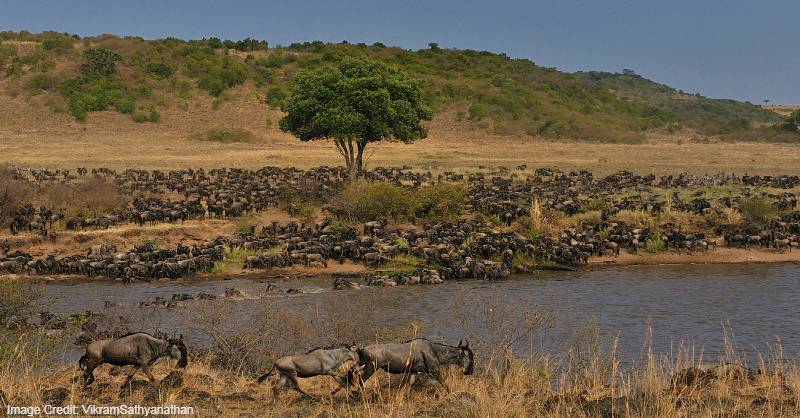 Ngiro-are Road , Nakuru County , Kenya
Masai Mara National Reserve, established in 1961, is the most popular safari destination in Kenya, boasting an average of 300,000 tourist visits per year. The Reserve is also one of the most famous wildlife conservation and wilderness areas / tourist attractions in Africa, spanning about 1510 square kilometers in spatial extent.
The Masai Mara National Reserve, northeast of a shared border with Tanzania's Serengeti National Park, is world-renowned for its exceptional populations of lions, African leopards, cheetah, and elephants. Even spotted hyenas are easily seen at close quarters all year round.
Tourists can also see The Big Five animals, the eland–the world's largest antelope, giraffe, impala, gazelle, topi, Coke's hartebeest, reedbuck, Defassa waterbuck, hippo, warthog, and the more than 500 species of birds.
The Masai Mara National Reserve truly blossoms between August and October, during the legendary wildebeest migration, which is perhaps the world's most breathtaking wildlife spectacle that shows a crossing into Kenya from Tanzania. Other animals like the zebra and the big cats also migrate northwards into the Mara from Serengeti National Park.
The Masai Mara National Reserve, which was voted one of the new seven wonders of the world, derives its name from the local Maasai tribe, who are nomadic inhabitants of the area. 
Tourists can explore the Reserve via a guided walking tour, in a 4X4 vehicle, or view it from a hot-air balloon to get an astonishing bird-eye view over, for example, the migrating wildebeest herds.
Source: Discoverafrica and Wikipedia