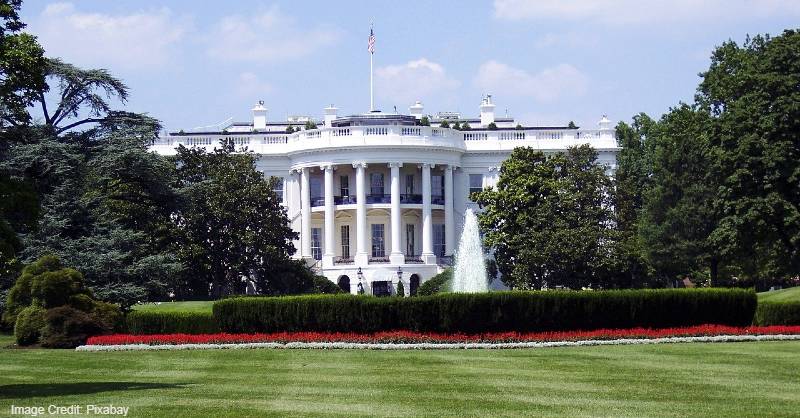 1600 Pennsylvania Avenue Northwest , Washington, District of Columbia 20500, United States
The White House is the official residence of the most powerful person in the world, the President of the United States.  As a very recognizable seat of power in North America and the World, it is a world-renowned tourist destination.  It has been the residence of all US presidents except the first, George Washington, though he selected the site for the White House to be constructed.
The building was designed by James Hoban, and constructed of sandstone painted white.  It was nearly entirely burnt down in 1814 during the War of 1812, though reconstructed shortly after.  Various presidents have been responsible for renovating and expanding the building, and today it is also the workplace of over 350 staff members.  The White House receives approximately 6,000 visitors a day.
The residence itself houses over 132 rooms and 35 bathrooms, spanning 6 floors, and includes 28 fireplaces and 3 elevators.  It even has a bowling alley and a movie theatre.
Security is a major concern with the building, so public tour requests must be scheduled through your Member of Congress, and are self-guided.  You are asked to make requests between 21 days and three months in advance, and they are granted for Fridays and Saturdays only.  Non-US citizens must contact their embassy in Washington to submit a tour request.  Identification is required for admittance and foreign nationals must bring their passport.
While no professional cameras or videos are allowed, you are able to take still photography.  Make sure you silence your phone though, as there are no phone calls or texting allowed.  There is an extensive list of what you can and cannot bring into the building, so make sure you check in advance, as there is nowhere for you to store your belongings.
If you would prefer, you can visit the nearby White House Visitors Center, which does not require any special permission to enter.  Here you can learn about the building itself, the various presidents, and famous visitors.  If you are planning on taking the White House tour, you may wish to visit here first to understand the history of the building before exploring it.
The visitor center is open Tuesday-Saturday from 8:00 a.m-3:00 p.m. except January 1, Thanksgiving, and December 25.
While in the area, make sure to check out the other landmarks, such as the Capital Lincoln Memorial, Washington Monument, and Supreme Court Building.
Source: Wikipedia
Wednesday
7:30 AM - 4:00 PM
Thursday
7:30 AM - 4:00 PM
Saturday
7:30 AM - 4:00 PM