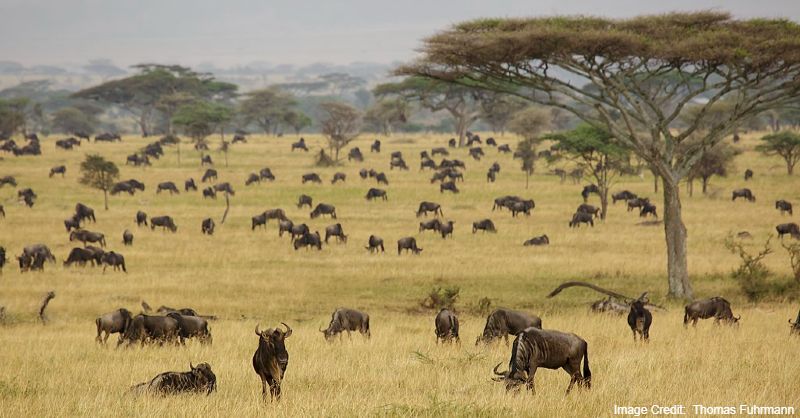 Serengeti National Park, in northern Tanzania, a 1.5 million-hectares of savannah, established in 1951, is one of Africa's most famous parks/tourist attractions, boasting about 150,000-200,000 tourists visit each year, usually to see the wildlife. The park is also Tanzania's oldest park and a Unesco World Heritage Site. 
Serengeti National Park is known for one of the most impressive natural events in the world, which is the massive annual migration to permanent water holes of vast herds of herbivores such as wildebeest, gazelles, and zebras, followed by their predators. The herbivores, seeking new pasture, move north from their breeding grounds in the grassy southern plains. 
The Serengeti plains comprise the largest remaining and pristine animal migration in the world, where over one million wildebeest plus hundreds of thousands of other diverse clades of primarily large mammals with hooves engage in a 1,000 km long annual circular trek that spans the two adjacent countries of Kenya and Tanzania. 
This spectacular phenomenon takes place in a unique scenic setting of about 25,000 square kilometers of flat short grasslands dotted with rocky outcrops (kopjes) interspersed with rivers and woodlands. 
Many of the herds cross the marshy western Grumeti River crocodile-infested corridor. Others veer northeast to the Lobo Hills, home to black eagles. The Black rhinos inhabit the granite outcrops of the Moru Kopjes. 
The Serengeti National Park also hosts one of the largest and most diverse large predator-prey interactions worldwide, providing a unique and impressive aesthetic experience. 
The best way to tour the Serengeti is via Safari guides, who know how to best navigate the park's dirt roads and how to find the most fascinating wildlife, including the big five—elephant, lions, rhinos, leopards, and buffalos. 
Tourists who prefer to travel on their own can rent a car (and even hire a driver) at Kilimanjaro International Airport (JRO), which is located about 190 miles east of the park's main entrance, Naabi Hill Gate. 
Tourists can view the Park via air travel/ air balloon through several regional carriers, or even go gorilla trekking in search of endangered gorillas in their natural habitat.