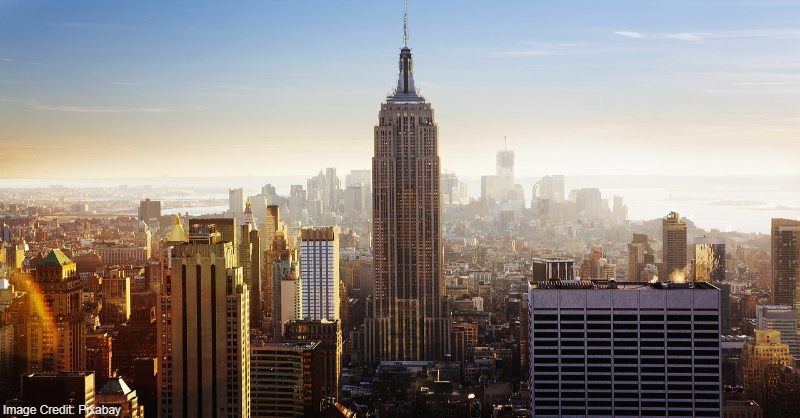 Once the tallest building in the world, and the first to exceed 100 floors, the Empire State Building stands at 1,454 feet tall and is an iconic shape in the skyline of New York City.  Even now, it remains the sixth-tallest freestanding structure in the Americas.
The Art Deco-inspired building was completed in 1931, in less than 18 months of construction, by an estimated 3,400 workers.  It has been named one of the Seven Wonders of the Modern World, and it is one of the most used visuals to symbolize New York City.
The building appears as a central feature in over 250 movies, including "King Kong," and "Superman."  Visitors can even stand where Deborah Kerr and Cary Grant stood in "An Affair to Remember."  This has contributed to the building being popular for weddings, particularly on Valentine's Day, when there is a contest to select couples to be married.
Over 4 million people visit the Empire State Building yearly, making it one of the top tourist attractions/destinations in New York.  There are two observation decks (86th and 102nd floors), which offer 360 views of the Brooklyn Bridge, Central Park, and the Statue of Liberty.  The 102nd floor is well worth the extra $30, with floor-to-ceiling windows.  On a clear day, you will be able to see 80 miles in the distance, or a total of six different states.
There are 2.8 million rentable square feet for businesses, and the Empire State Building hosts huge companies such as LinkedIn, Shutterstock, and Global Brands Group.
There are a variety of tours of the building available, whether you'd just like to visit the lower observation deck (starting at $35), or if you would prefer to have an all-access tour while sipping champagne ($460.06).  The skip-the-line ticket is highly recommended if you would like to spend more time touring, and less time waiting in line. Tourists can enjoy free entry to the Empire State Building with The New York Pass.
If you time your visit for after dark, you will be able to watch the city light up.  The outside of the Empire State Building is also lit each night with 1,200 LED fixtures, in custom colours each evening to represent different events in the city.
Source: Wikipedia and Britannica
Tuesday
12:00 PM - 9:00 PM
Wednesday
12:00 PM - 9:00 PM
Thursday
12:00 PM - 9:00 PM
Saturday
12:00 PM - 9:00 PM