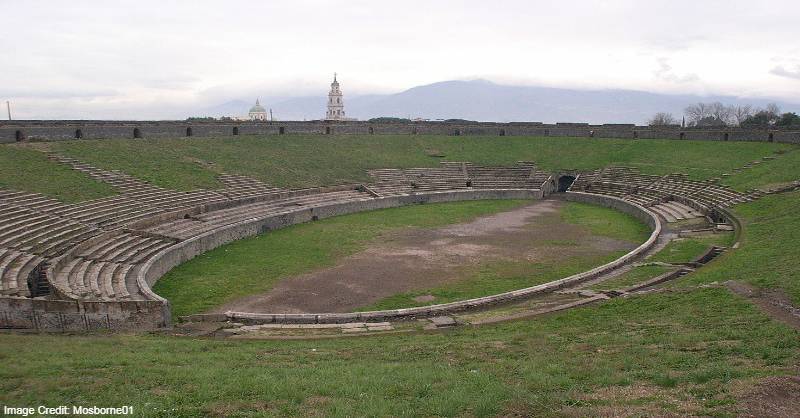 169 Via Plinio , Pompei, Campania 80045, Italy
The amphitheater in Pompeii is the oldest surviving Roman amphitheater. And this might have been helped by the fact that it was buried by pyroclastic flow (volcanic materials) from the eruption of Mount Vesuvius in 79 AD, which covered the whole city of Pompeii.
The Pompeii amphitheater, which was built around 70 BC, is also said to be the earliest recorded amphitheater that was built from stone (Others were built mainly out of wood).
The amphitheater is today one of the main attractions in the Archeological Park of Pompeii, which welcomes about 2.5 million visitors annually.
The Pompeii Amphitheatre, which has a 20,000 spectator capacity, like many other amphitheaters at the time, was used to host gladiatorial events. But in 59 AD, due to the audiences cheering, a bloody brawl between citizens of Pompeii and the neighboring region of Nuceria saw the Amphitheatre closed by the Senate Of Rome for the next decade. But the closure was overturned, in 62 AD, after a disastrous earthquake struck the city.
The amphitheater has also been used in recent times to host concerts for American rock band Pink Floyd in 1971 and Frank Sinatra in 1991.
Tourists can visit the amphitheater itself or any one of the other exhibitions in the Archeological park such as the Antiquarium of Boscoreale (Where various items from that period are preserved) and the Excavation sites of Oplontis (where plaster casts of victims of the Mount Vesuvius eruption can still be seen).
Source: Wikipedia and Pompeiisites
Wednesday
9:00 AM - 5:00 PM
Thursday
9:00 AM - 5:00 PM