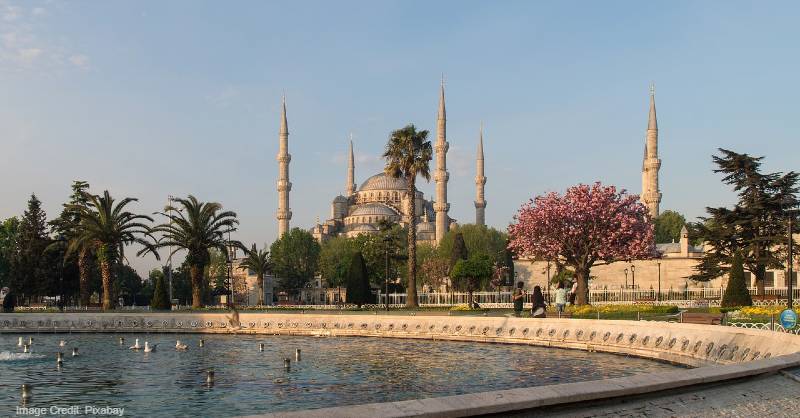 Blue Mosque is also known as Sultan Ahmed Mosque. The blue, in the name, is derived from the bluish interior decoration of the Mosque.
The Mosque, which was built by Ottoman sultan Ahmed I between 1609 – 1616, is said to be the most important Mosque in Istanbul. Ahmed I, who died in 1617, is also said to be buried near the mosque, with a mausoleum built over his tomb.
Sedefkar Mehmet Aga, a poet, was the architect who designed the Mosque. Sedefkar was also said to be a student of the greatest architect Sinan. 
The Blue Mosque comprises a theological school, an imperial lodge, a kitchen for the poor, bazaar shops to raise money for the maintenance works, and a small library. It is said to be the only Mosque in Istanbul with 6 minarets–64 m towers built next to or into the structure of a mosque.
The Mosque receives over five million visitors per year! And there is no fee for the Blue Mosque tour.
Keep in mind that the Mosque is closed at prayer times, and there is a dress code (long slacks for men, head coverings for women).
Source: Allaboutistanbul and Wikipedia
Tuesday
8:30 AM - 11:30 PM
Wednesday
8:30 AM - 11:30 PM
Thursday
8:30 AM - 11:30 PM
Saturday
8:30 AM - 11:30 PM