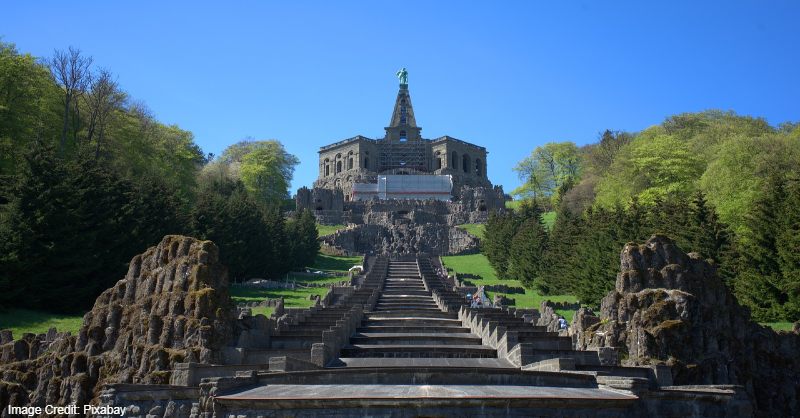 20 Schloßpark Wilhelmshöhe , Kassel, Hessen 34131, Germany
Bergpark Wilhelmshöhe is a landscape park, a tourist attraction near me located in Kassel Germany.  This 590-acre park is Europe's largest hillside park and the second-largest hillside park in the world.
Construction began in 1689 and took 150 years to complete.  It is open to the public and was declared a UNESCO world heritage site in June 2013.
Originally, this park took its inspiration from Baroque and French-style gardens, however today it is known as an English landscape garden.
The most interesting feature for tourists is the 300-year-old pneumatic water cascades and fountains.  Rainwater collects over a period near the top of the hill.  These 92,000 gallons of water are then released using hand-operated valves, causing them to cascade down the hill.  As they build pressure, they can be released by large geysers which spray for several minutes.  The entire system is pressured naturally by gravity, without any pumps.  Though some parts have been replaced over the years, some of the pipes remain the originals that architect Giovanni Francesco Guerniero laid beginning in 1701.
The fountains are on display every Wednesday and Sunday from May until October.  On the first Saturday of the month from June through September, a light show is added to illuminate the monuments.
At the top of the hill, you will find the copper Hercules monument, a famous landmark within Kassel.  The monument stands on top of a pyramid, which in turn stands on top of the Octagon.  It is the highest point in the park.
Within the park, you can also find artificial ruins to explore, known as follies, of a medieval castle, Chinese pagoda, and Roman aqueduct.
At the bottom of the hill stands the Wilhelmshöhe Palace, a neoclassical palace built in 1786, which today houses an art gallery.