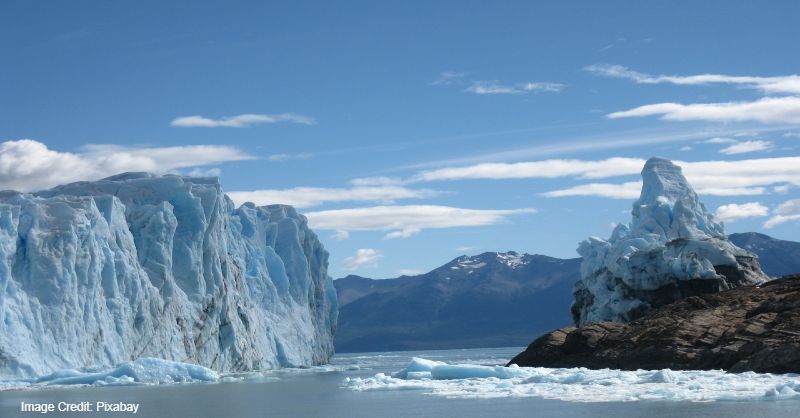 The Perito Moreno glacier is one of the world's most famous glaciers, located in Los Glaciares National Park Argentina.  It is a 97 square mile ice formation, and is part of the Patagonian Ice Field.  As one of the tourist attractions near me, it is easily accessible for park visitors who want to tour its large expanse.  Boardwalks throughout the park will take you as close as a few hundred meters of the glacier's snout.
There are 47 glaciers in Argentina, but this is by far the most popular.  The park was designated a UNESCO world heritage site in 1981.
While most of the world's glaciers are retreating, Perito Moreno stays the same size.  This is because it is constantly reforming as well as shrinking, and scientists do not agree on why this is happening.  This movement causes large booms to echo through the park.  As the glacier moves across the fjord of Lake Argentino, the pressure can cause one side to rise by more than 30 meters at a time.
Ruptures will happen periodically for lucky spectators, where the pressure builds to the point where ice and water burst from the glacier into the water.  This phenomenon happens as often as once a year, and as little as once a decade.  These ruptures are good for local tourism, with more than 1000 visitors yearly coming to see the park.
To fully get an idea of the size of the glacier, you can arrange to take a boat tour to get even closer.  Or, you can try a glacier trekking tour, which will take you onto the glacier itself.
The easiest way to visit the glacier is to take a shuttle bus from El Calafate, about 48 miles away.  The town hosts a busy airport, and there are lots of options for guided tours thanks to the large tourism industry in the area.
Tuesday
8:00 AM - 6:00 PM
Wednesday
8:00 AM - 6:00 PM
Thursday
8:00 AM - 6:00 PM
Saturday
8:00 AM - 6:00 PM