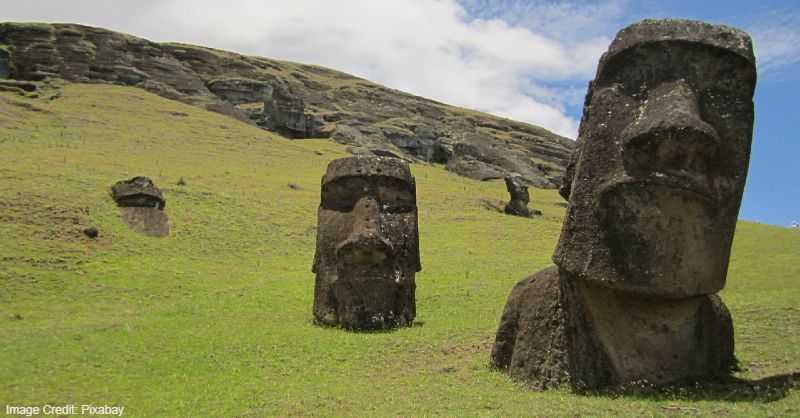 Easter Island, Valparaíso , Chile
Easter Island is an iconic Chilean territory, which is home to the more than 900 giant Moai (statues) known as the "Easter Island Heads."  This is a bit of a misnomer, as the statues also include torsos, buried under the ground.  The statues are modeled after the Rapa Nui, the people of the island who still live there today.
The national park where the statues are erected is one of the major tourist attractions/destinations. Over 100,000 people visit the island each year, and in the past, the local government has tried to limit the number of tourists to the island.  So check in advance to know how long you will be permitted to stay on the island, which is normally 30 days.  And be mindful that visitors are now allowed to touch the Moai, as doing so carries a steep penalty.
The statues were crafted from volcanic rock, between 1100-1680 CE.  The statues, once carved, would be moved from the quarry into their positions on top of platforms, a distance of up to 11 miles.  The tallest statue stands at 33 ft high, and 80.7 tons.  While it is still unclear how they were moved, it has been suggested that it would have taken more than 200 men to move the largest of these statues.
The Spanish name for the island is Isla de Pascua, but the native Eastern Islanders will call it Rapa Nui, so be mindful of this as you navigate.  The currency is the Chilean Peso, and the majority of the locals will speak Spanish and Rapa Nui.
There is a standard entrance fee for the park of $80, however, the cost-prohibitive part of visiting Easter Island is actually getting to the Island.  There are a number of ways to visit the island, including by cruise ship, but the most economical way is to fly from Santiago, Chile.  It is less expensive to fly in the low season, and you may even find flights for as low as $500 USD.
If you don't mind paying a steeper price, the festival Tapati Rapa Nui in February is the best time to visit.  This festival honors the traditions of the Rapa Nui people, and seeks to preserve their culture through sports competitions, baking and cooking, and handcrafting.
Plan to spend at least 3-5 days on the island, and allow at least two days for travel – it's not uncommon for flights to be delayed.  You can choose a guided tour on foot, by bus, or even horseback, or you can choose to explore on your own.  Rent a vehicle if you are planning to visit multiple sites.
Source: Chile.travel, Wikipedia and Matadornetwork
Wednesday
8:00 AM - 8:00 PM
Thursday
8:00 AM - 8:00 PM
Saturday
8:00 AM - 8:00 PM