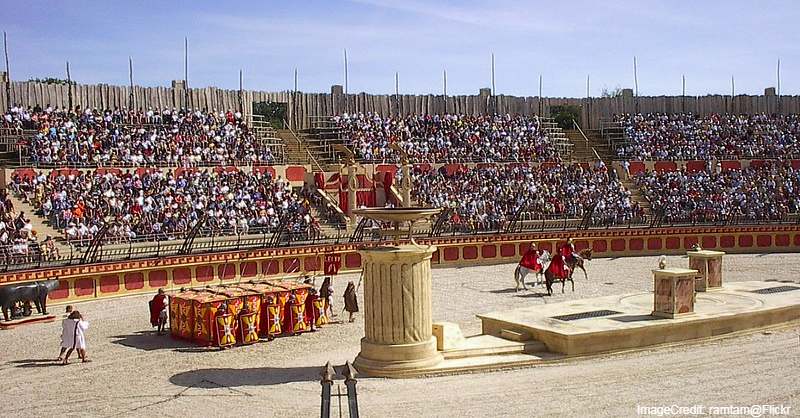 Le Puy du Fou , Les Epesses, Pays de la Loire 85590, France
Puy du Fou is one of the most popular theme parks in Paris, second only to Disney, and is a tourist attraction near me that you should visit when you are in France.  The historical theme park attracts more than 2 million visitors a year.  In 2013, it was named Best European Theme Park.
Originally built in 1977 by the French politician Phillippe de Villiers, it was the set of shows called Cinéscénie, which has been seen by over 13 million people.  It is set within the ruins of a renaissance castle.  It is a celebration of the history of France, using actors, light shows, 800 fireworks, and 3D projections.  It uses the largest stage in the world, with 1200 actors and hundreds of horses.  This show is still performed as a separate attraction to the main shows within the park, but is only performed during peak season.
Now there are 26 main shows within the park, each running between 30 and 40 minutes.  They tell the story of France in an entertaining way, delving into the Vikings, French naval officers, and the musketeers.
The park has hosted many events, including the team presentations prior to the Tour de France in 2011.
One of the most interesting parts of the park is the falcons who fly around, trained to pick up small litter like cigarette butts.  The birds are part of an ongoing effort to teach the park visitor's about falcons, as well as dissuade them from throwing their butts in the park.
If you do not speak French, you can rent a headset that will translate most of the shows into 5 other languages.  Tickets range from 27-94 Euro depending on the season.  Be sure to book your ticket in advance to take advantage of the discount.
Wednesday
9:30 AM - 9:00 PM
Thursday
9:30 AM - 9:00 PM
Saturday
9:30 AM - 9:00 PM