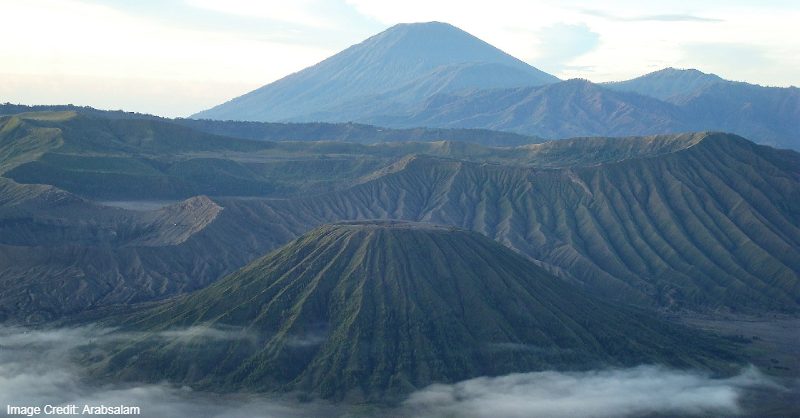 Bromo Tengger Semeru National Park, located in East Java in Indonesia, stands as the largest volcanic region in the province of East Java, covering 800 square kilometers in terms of land.
The National Park, one of the main tourist attractions that receive more than 61,000 visitors every year in Indonesia, is named after three things that are significant to its location. These are Mount Semeru, Mount Bromo, and Tengger, which is the name of the group of people inhabiting the area.
In 1982, the Government of Indonesia declared it a national park and continued with the conservation of its area with the sand sea. The sand sea, also known as Tengger Sand Sea, has enjoyed protection from the government since 1919.
Tengger Semeru National Park is a place to be for tourists who are excited about volcanic activities. At the park, they can witness the real eruption of the smoke of ashes from Mount Semeru. This active volcano rises as high as covering 3,676 meters above sea level. Another very common activity for tourist is to visit the collapsed but still smouldering Mount Bromo.
There are different options of transportations to the park. Depending on the discretion of tourists, they may decide to travel down to the park by air or by land.
It is however fun to travel by land and behold the nature and people surrounding its environs. Visitors to the park usually choose to stroll once they arrive at the Park. However, there are other alternatives like renting a jeep to tour the Park or a horse.
Another remarkable thing about the Park is the religious centers that tourists are able to visit to have an amazing look at the historical magnificence of the Hindu temples around the Park where the natives whose religious belief is rooted in Hindu teachings. Among the temples to visit are; Jago Temple, Mandara Giri Semeru Agung Temple among others.
A tour at the Bromo Tengger Semeru National Park is beyond beholding a volcanic eruption. It is also about discovering new territory, people, and their religious perspectives.
Tourists are encouraged to contact the Park for more consultation via the address we have provided.
Wednesday
7:00 AM - 5:00 PM
Thursday
7:00 AM - 5:00 PM
Saturday
7:00 AM - 5:00 PM