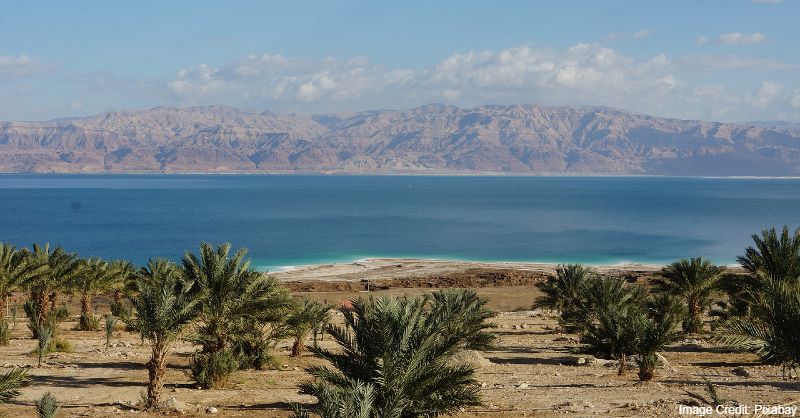 The Dead Sea, also known as the Sea of Salt, at over 430 meters below sea level, is the lowest land point on Earth, surrounded by the Negev Desert's breathtaking scenery. 
The Dead Sea is so thick, saturated with salt that nothing can sink into it, and everyone who ventures into it will naturally float. Although it's not the no.1 saltiest sea in the world, it is definitely the most famous saltiest sea in the world, and one of the major tourist attractions in the world. And because of its high salinity, the Dead Sea creates a harsh environmental condition in which plants and animals cannot thrive, and hence its name. The Dead Sea is also said to possess healing properties.
The Dead Sea is a saltwater lake that forms part of Israel's long borders with Jordan, with towering mountains that form part of the Judean and Negev deserts visible from the Israeli side. The shore, which is just a one-hour drive from Jerusalem, is a popular tourist destination for Israelis and folks looking for a few days of relaxation, people seeking medical benefits from the water, and tourists/visitors looking to explore the unique Sea and surroundings. People bathe in the mineral-rich mud and float in the salty waters of the island's beaches.
The discovery of scrolls around the Dead Sea area is another unique feature of this tourist attraction. The scrolls were dated from the last three centuries BCE and the first century CE. The scrolls contain the second-oldest known surviving manuscripts of works later included in the Hebrew Bible canon, as well as deuterocanonical and extra-biblical manuscripts that preserve evidence of the diversity of religious thought in late Second Temple Judaism, the texts are of great historical, religious, and linguistic significance. 
Masada is another popular tourist destination surrounding the Dead sea. This ancient fortress sits on a mountain overlooking the sea. Masada is a UNESCO World Heritage Site with a steep history and ascent that is traditionally climbed early in the morning by visitors who want to see the ruins at the top as the sun rises over the Dead Sea and Jordanian mountains in the distance. 
A cable car has been installed, so climbing is no longer required. The Ein Gedi National Park is located to the north of Masada. This park, which is located in the popular Kibbutz, has several cool water hiking trails where you can cool off in the sun. The higher you climb, the quieter it becomes, and the more likely you are to find your oasis. If you have less time, Ein Gedi also has a public beach and spa that is far closer to Jerusalem than the rest of the beaches.
Wednesday
9:00 AM - 6:00 PM
Thursday
9:00 AM - 6:00 PM
Saturday
9:00 AM - 6:00 PM