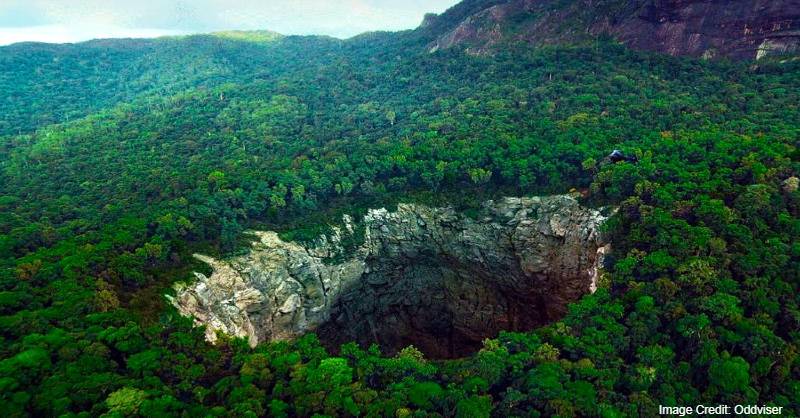 Cave of Swallows is one of the largest caves in the world with a depth of 1,690 ft. It is a habitat for different animals like snakes, millipedes, birds, scorpions, and many other animals. The cave has a very low temperature with thick vegetation at its mouth.
Visitors may decide to behold the beauty nature has to offer at Cave of Swallows from its mouth or go inside the cave for close interaction with the densely filled layers of guano and debris at the bottom of the cave. This is done by base jumping into the cave. Cavers use a rope to find their way into the cave. This may take up to 1 hour while they can spend between 40 minutes and 2 hours to reach the mouth of the cave.
A visit to the Cave of Swallows is equal to extreme sports tourism. It is a place enthusiasts of BASE jumping would consider a home, a place to be and engage in their favorite sports game. With a winch, BASE jumpers would only spend 10 minutes to get inside the cave. Freefalling into the cave will take just 10 seconds.
The cave has been a popular place among the Huastec people long before it was discovered in 1966. Ever since its discovery in 1966, it has become one of the preferred destinations of lovers of extreme sports tourism. Why not experience nature with sports?
There is a restriction on the number of tourists expected at the cave every day. The limit is 300 visitors. There is no specified cost of a visit to the Cave of Swallows. However, you can consult your local travel agent to have an idea of the cost of a flight ticket from your place to the cave.
I, like many folks out there, do wish that this is one of the tourist attractions near me because then, it would cost me much less to go tour it.
Wednesday
9:00 AM - 7:00 PM
Thursday
9:00 AM - 7:00 PM
Saturday
9:00 AM - 7:00 PM