show less
show more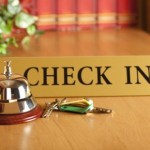 Public Group
active 6 months, 4 weeks ago
Please post, in 338 characters, any valuable and unique information that relates to HOTEL?
Please read this information before posting on Discoverybit.com.
Dane Graber posted an update in the group Hotel 2 years, 6 months ago

Orbital Assembly Corp. Is Planning To Open The First Commercial Luxury Space Hotel, Called Voyager Station, By 2027. The Hotel, Which Will Accommodate 280 Guests And 112 Crew Members, Will Simulate Gravity Based On The Concept Of How Water Is Kept In A Spinning Bucket To Enable Comfortable Rooms And Stylish Bar Experiences Possible.

Ken Parth posted an update in the group Hotel 4 years, 10 months ago

The First High Rise Hotel Has Been Built Underground, In A Quarry In China, At The Cost Of About $300 Million. Some Ground Rooms In The Hotel Are Said To Be Submerged Under The Quarry, Giving Guests The Viewing Pleasure Of The Lake Environment. The Shimao Quarry Hotel Would Set Guest Back ($489 – $546) Per Night. Cool!

Ismael Shapiro posted an update in the group Hotel 5 years ago

A Beer Company, DogBrew, Has Opened The First Beer Hotel In The World. The Hotel, In Columbus, Ohio, Comes With In-Room Taps and Fridges Stocked With BrewDog Beer. The Hotel Comes After The Recent Surprising Find About Drinking Alcohol. The Hotel Would Set Anyone Back Between $162 To $284 Per Night.

Discovery Bit This is a social network for those interested in unique and valuable information!