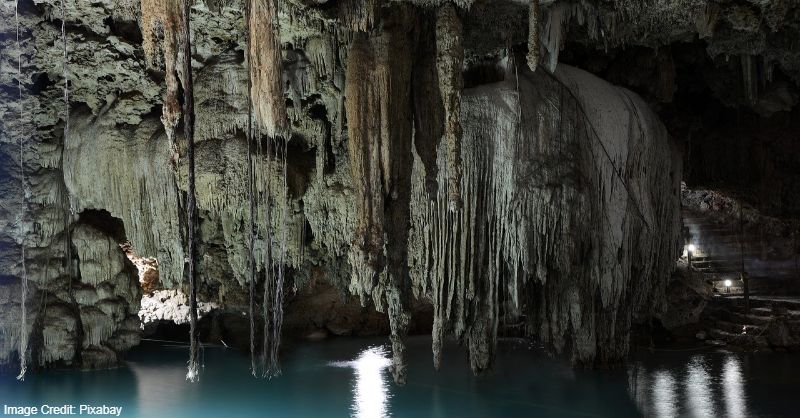 Unnamed Road , Quintana Roo , Mexico
The Sac Actun Underwater Caves are the longest known underwater cave system in the world, with a length of 215 miles.  Many suspect that this cave system actually connects to more sections, which would make it even longer.  The cenote (a sinkhole that has exposed the groundwater underneath) is a great spot for tourists to snorkel, dive, and take photos of interesting rock formations.
Taking a tour of the caves is a great way to cool off on a warm day.  A number of interesting animal remains have been found here, including a mastodon.  In 2007, divers found a 12,000-year-old skeleton, which are the oldest human remains discovered in the New World.  Cave systems were sacred to Mayan culture, often the site of rituals.
You can get to the cave system by car or taxi from Tulum, which will take about 25 minutes.  Your admission fee will include a guide, snorkel, and a life jacket, and you can rent a wetsuit if you'd rather be a little warmer.  If you bring sunscreen, make sure that it is biodegradable and reef safe.  If you are snorkeling, you must wear a lifejacket.
Bring a waterproof camera on this adventure, and make sure at least a few people in your group have rented a flashlight as the caves are very dark.  If you are afraid of bats, you may want to skip the caves.
For those more experienced in the water, you can also go diving through an onsite company called Agua Clara Diving, which offers classes and tours.
This is a great tourist location, but those that may need other options can view these tourist attractions.
Wednesday
Appointment only