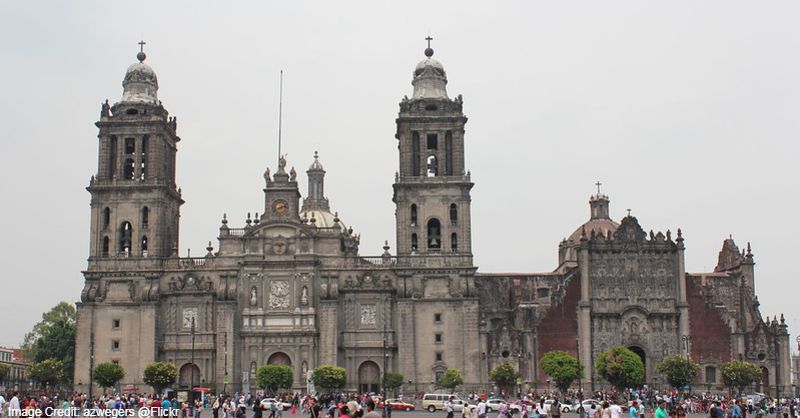 Ciudad de México, Ciudad de México 06000, Mexico
Fully named Metropolitan Cathedral of the Assumption of the Most Blessed Virgin Mary into Heaven, it is an impressive architectural design with a towering structure that was built between 1567 and 1788. Its design is a blend of baroque, neoclassical, and Mexican architectural design. It is considered the oldest and largest cathedral in Latin America, one of the main reasons why it is an interesting tourist attraction to visit.
Mexico City, in a bid to save the building from collapse, took proactive steps to save this cathedral that houses many treasured works of colonial art expressed in different styles. The effort of Mexico City earned the structure the status of 100 Most Endangered Sites in 2000 with a reconstruction of its foundation.
Today, the building still stands and remains as one of the main tourist attractions for those interested in learning about a significant time of Catholicism in Latin America. It took nearly 250 years (1573–1813) to be completed and enjoyed major contributions from the finest architects, painters, gliding masters, and other plastic artists of that period. They explored styles such as the Gothic, Baroque, Neoclassical, which were in vogue at the time, and produced a cathedral with diverse ornaments, paintings, and furniture in its interior. It is indeed a place to interact with diversity in art.
Visitors to these tourist attractions are admitted into the Cathedral for free. They can only spend 1-2 hours in the Cathedral. Testimonies from tourists in the past say the place is self-imposing and has a unique way of touching the soul of an individual no matter his or her religious orientation. This is why thousands of visitors move to have their unique experiences every time.
Source: Wikipedia
Wednesday
8:00 AM - 8:00 PM
Thursday
8:00 AM - 8:00 PM
Saturday
8:00 AM - 8:00 PM